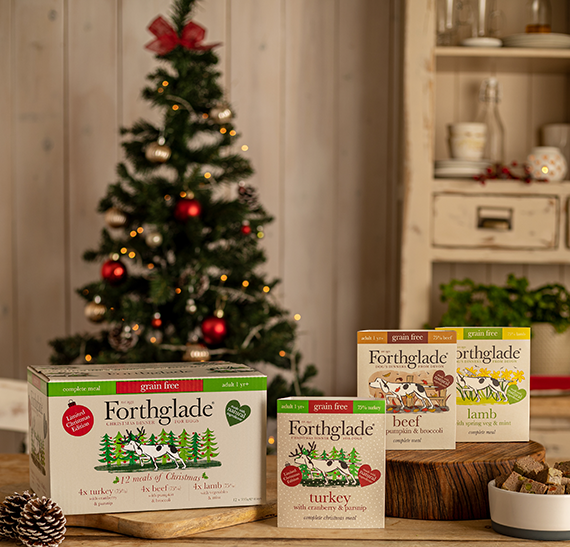 Devonian dog lovers Forthglade have Christmas all wrapped up for canine companions with two limited-edition festive meals and also a new Christmas variety pack.
The hugely popular Turkey Christmas Dinner for Dogs and special Gourmet Turkey and Goose meal will be available, each packed with high quality ingredients and free from any junk or fillers.
The Devon-made meals contain all the vitamins and minerals a dog needs to ensure optimum health and, as they are grain free, they're ideal for dogs with sensitive tummies.
Forthglade's Turkey Christmas Dinner for Dogs packed with 75% turkey is paired with sweet parsnips and vitamin-rich cranberries, gently slow-cooked to lock in the natural goodness and flavours. Available in convenient 395g trays, RRP £1.45.
The special Gourmet Turkey and Goose natural wet meal contains 75% turkey and goose, pumpkin and cranberries. While turkey and goose are excellent sources of protein, easy to digest and highly palatable, pumpkin and cranberries are a great source of essential vitamins; packed with minerals, fibre and natural antioxidants. Forthglade's Turkey & Goose gourmet meal is available in convenient 395g trays, RRP £1.99.
Both Christmas meals include botanicals chamomile, parsley, rosemary and nettle, which can aid the body's natural defences. Prebiotics are also included to help support an increase in 'good' gut bacteria. The addition of omega-3 is added to support immunity and encourage a healthy skin and coat. Both recipes are suitable for dogs aged from one year+ and available in convenient trays, which are also recyclable.
The '12 Meals of Christmas' variety pack enables dogs to enjoy three tasty festive feasts. The 395g trays include x4 Christmas Dinner for Dogs, x4 beef with pumpkin and broccoli meals and x4 lamb with broccoli and vegetables. The complete meals, again all made in Devon, are grain free and contain all the goodness a dog needs to stay happy and healthy this Christmas, RRP £16.50.
For more details on the limited edition Christmas meals contact [email protected].