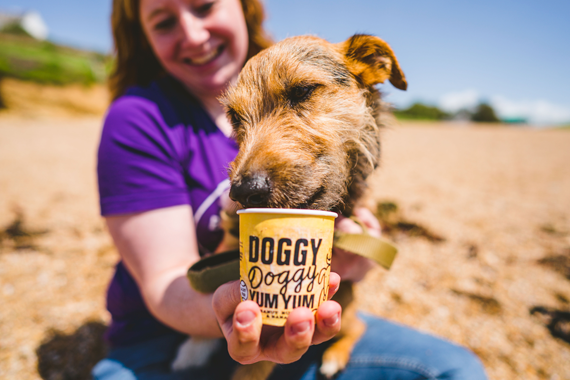 Doggy Doggy Yum Yum, which was launched in 2020 by Dorset- based artisanal ice cream maker Baboo Gelato, has been awarded Best New Product of the Year by Pedigree Wholesale.
The Best New Pet Product of the Year 2021 award was made at the Pedigree Wholesale Supplier Day at the Coventry Building Society Arena in Warwickshire and was attended by the leading brands and manufacturers in the pet industry.
Doggy Doggy Yum Yum also recently made the finals of the Product Innovation (Dog Treats) and Business Start-up categories at the PetQuip Awards and the New Business Award at the Pet Industry Federation Awards.
Sam and Annie Hanbury are the husband-and-wife team behind multi-award winning Baboo Gelato ice cream.
Annie said: "We're delighted to have been recognised in our first year by both PetQuip and PIF and to be awarded Best New Product by Pedigree Wholesale Ltd.  It is a real honour."
Sam added: "We've been astonished how quickly Doggy Doggy has spread nationally.  We always knew that pet owners wanted to give their dogs the best, but it's nice to see it in action.".
Annie, who trained as a professional gelatiere in Bologna, has brought the same care to the formulation of Doggy Doggy Yum Yum as she brings to her ice cream, so it uses the very best organic ingredients. Made with peanut butter and bananas which dogs find hard to resist, this frozen treat
uses coconut milk instead of dairy so it is kinder to dogs' tummies.
Baboo Gelato believes that Doggy Doggy Yum Yum is the first frozen treat to meet all the dietary and environmental criteria as it is organic, dairy free, gluten free, and suitable for vegans.
Although the name Doggy Doggy Yum Yum tells you who the product is for, it is completely human friendly, and is very popular with human customers as well.
The branding for Doggy Doggy was created by the Robot Foods design agency in Leeds.  The company created an entire suite of canine characters for the Doggy Doggy brand, so look forward to new products featuring a collection of mutts, large and small, shaggy and sleek.