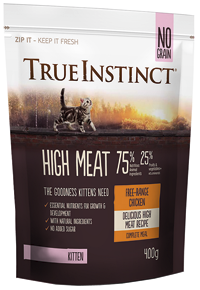 Raw, natural and freeze-dried pet brand True Instinct has introduced 'High Meat' products for cats and kittens to its premium range of dry and complete food.
Made up in the ratio of 75% high meat recipe and 25% natural fruit, vegetables and botanicals, the dry biscuits provide complete nutrition. The food is grain, gluten and cereal-free with no artificial colours, flavours or preservatives and is veterinary approved.
The range, which is Inspired by cats' ancestral diet, the range includes Free-Range Chicken, Turkey with Duck, Salmon and Tuna, which has now replaced True Instinct's Raw Boost range for adult cats.
NO ADDED SUGAR
The new kitten product offers a Free-Range Chicken variant that offers high meat biscuits with no added sugar.
The 'High Meat' cat range comes in 300g and 1.5kg bags at an RRP of £2.99 and £17.99. And, to celebrate the launch of the new cat and kitten products, True Instinct is offering discounts to be passed on to the consumer.
Craig Taylor, managing director of True Instinct, said "As advocates for natural and nutritious feeding, we're immensely proud to bring this new and advanced product to market. The super-premium 'High Meat' products use only the highest-grade ingredients to help cat and kittens thrive and come in a format that we know they love too."
By registering for a trade account, retailers can gain access online ordering, freezer deals and point-of-sale, plus free training and the option to become a qualified raw advisor.