Trixie has expanded its range of products for poultry keepers and ornamental birds with a number of new product developments.
The two-storey Natura chicken coop is made of glazed pine with an enclosure allowing for keeping several chickens. The coop features a lockable sliding door, a chicken ladder and a perch, and there are two nests in the nesting box which can be separated by a removable partition. A pull-out tub and a roof that folds open enable fast cleaning and egg removal.
The coop is described as weather-resistant and easy to assemble, and measures 183cm × 107cm × 80 cm. The RRP is £369.
In addition, the company has overhauled its range in the growing bird category by developing more than 90 products in cooperation with the World Bird Park in Walsrode, Germany.
The project focused on the health and safety of pets as well as sustainability, with extensive use of natural materials such as bamboo, rattan, sea shells, cotton and sisal.
The packaging was redesigned with new colours and visual displays to help purchasers make the right choices for size and type of birds at a glance. POS material including magnetic fascias, signs, posters and brochures are available.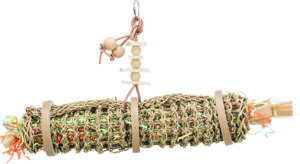 Pictured product: #58722, RRP £17.99.