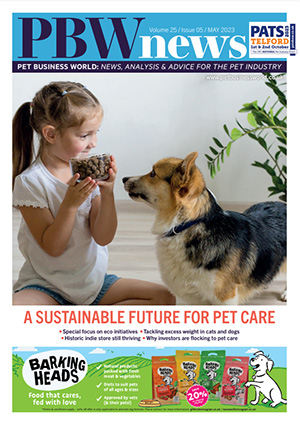 The May 2023 issue is now available online! Packed full of news, features and comments, including:
DUMPING GROUND: Water company warns against dangers of flushing cat litter.
NEW LOOK: Pets at Home unveils new brand identity and advertising campaign.
THE BIG SHOW: October's PATS exhibition set to be the biggest ever.
NEWS ANALYSIS: The growing problem of pet obesity and how to tackle it.
ECO SPECIAL: How pet trade suppliers are focusing on sustainability and working to reduce their carbon footprints.
ASK THE EXPERT: Ben Long and Alex Read of private equity firm Inflexion explain why the pet care trade remains attractive to investors.
SHOPPING AROUND: Our mystery shopping team checks out stores in Great Yarmouth.
SHOP TALK: An independent store with 30 shop cats and everything that a pet owner could want.
AQUATICS: A round-up of news from the tropical fish sector.
PRODUCT NEWS: Some of the best new products on the market to catch our eye this month.
WEIRD & WONDERFUL: A selection of unusual and off-the-wall stories from the animal kingdom.
BEHIND THE COUNTER: More tales of the day-to-day life of an independent retailer.