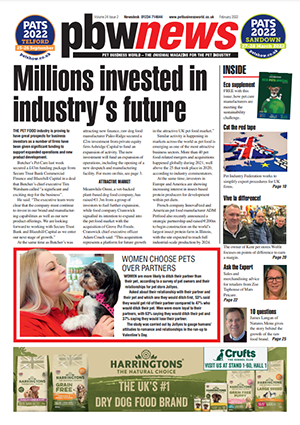 The February 2022 issue is now available online! Packed full of news, features and comments, including:
Millions invested in industry's future: The pet food industry is proving to have great prospects for business investors as a number of firms have been given significant funding to support expanded operations and new product development.
Cut the red tape: Pet Industry Federation works to simplify export procedures for UK firms.
Vive la difference!: The owner of Kent pet stores Wolfit focuses on points of difference to earn a margin.
Ask the Expert: Sales and merchandising advice for retailers from Zoe Taphouse of Mars Petcare.
10 questions: James Langan of Natures Menu gives the story behind the growth of the raw food brand.