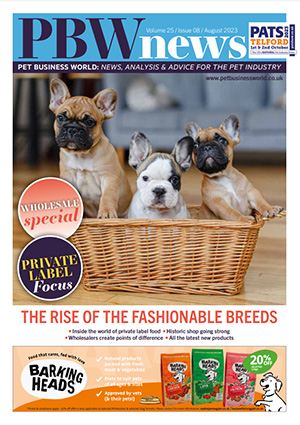 The August 2023 issue is now available online! Packed full of news, features and comments, including:
ENERGY UNDER SCRUTINY: Ofgem initiates review of the business energy sector.
MORE STORES FOR JOLLYES: National retailer opens three more branches in a matter of weeks.
FULL HOUSE: PATS Telford exhibition space now completely sold out.
ANTICIPATION MOUNTS: Shortlist announced for the 2023 PetQuip Awards.
NEW FACES: Vet study reveals changes in the most popular puppy breeds.
WHOLESALE FOCUS: How some of the UK's leading wholesalers are building their services.
SHOP TALK: An independent store in Lancashire nears a landmark anniversary.
PRIVATE LABEL SPECIAL: How private label lines in the pet care sector are developing a significant retail presence.
AQUATICS: A round-up of news from the tropical fish sector.
SHOPPING AROUND: Our mystery shopping team checks out stores in Cheltenham.
PRODUCT NEWS: Some of the best new products on the market to catch our eye this month.
WEIRD & WONDERFUL: A selection of unusual and off-the-wall stories from the animal kingdom.
BEHIND THE COUNTER: More tales of the day-to-day life of an independent retailer.