Robert and Lauren make a winning team

Wild West Pet based in the heart of Cornwall is one pet store that sticks to its promise of delivering natural products to its customers. Owner Robert Dawes reveals why he's a trail blazer when it comes to offering the best in pet nutrition
Health and nutrition have always played a big part in the life of Robert Dawes, so it was only natural for him to apply this approach to his business.
Robert is the owner of Wild West Pet, which he launched in 2012 after a career spent in the pet care business.
But he admits it wasn't easy to source pure natural products for his store in those early days.
"It was a real struggle at the beginning because not many complete products were available. At times I felt like I was seen as a crazy guy that was going against the grain. But just look at the pet food industry now.
RAW FEEDING
"Back in 2012 natural raw feeding was almost unheard of to most consumers – it certainly wasn't like it is today. But as I studied the BARF diet, I learned that maybe the ingredients and marketing of commercial pet food was more focused on pure profit, rather than health. I wanted to change that."
Robert's definition of natural is real food ingredients in its real form – in other words, no additives, colourants, preservatives, chemicals, E numbers or anything synthetic.
So how does he make sure that products meet his requirements?
"With the rapidly expanding natural pet food market, new products and brands are coming out all the time and we are constantly approached by them," he added. "We vet all of our products carefully – on their ingredients, quality, traceability and overall ethos, and if all that is in line with ours it is able to find a place in our store…but only when all that is met."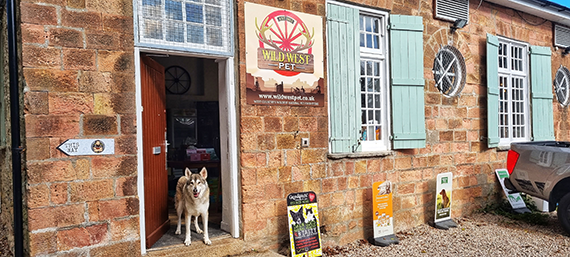 There's a real Western vibe to the shop entrance
Robert's trail-blazing stance at Wild West Pet has paid off with a thriving store and online presence. The business was also recognised as being the Best Natural Pet Supply Store in the prestigious Lux Life Pet Product & Service Awards 2021, with the judges saying: "Wild West Pet is quickly becoming a national voice in pet food sales."
Robert admitted: "Winning the LUX award was incredible. It was a lovely feeling to be recognised for the service we provide. It made me reflect a lot on what we do."
It was also recognition for sticking to his guns when it came to stocking natural products.
"Before Wild West Pet I ran a pet care business – dog walking and house/pet sitting – with my ex-partner. It was a very niche business, but we were very busy," he said.
BEST INTEREST
"I've always been into fitness and nutrition so when my relationship ended with my ex-partner, I put my passion of health and nutrition, and combined it with the love I had for working with dogs – and set out to run a natural pet food store.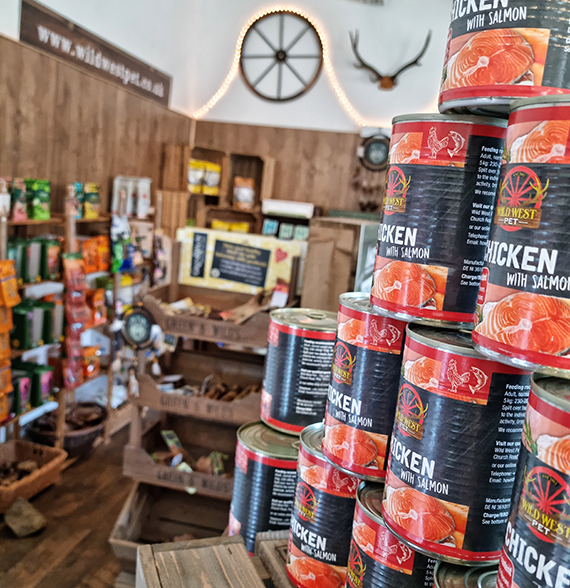 Robert stocks his own brand labels
"With our knowledge, understanding and experience, it's quite easy to convince customers that what we do is in the best interest of their pets' health. People know we only sell products we believe in, so they understand what we're about. We're not a store that sells junk food and just has a 'natural' section, so there's no mixed messages here. We are the best and we sell the best."
Wild West Pet is based in Pool near the town of Cambourne. As the store is located just off the main A30 road, and the fact it has a large car park, it attracts customers from around Cornwall.
Footfall increases dramatically during the holiday season, and the store has been particularly busy this summer with more families staying in the UK for their breaks.
Robert gets many compliments on the rustic appearance of the store with comments like "it looks like the Wild West."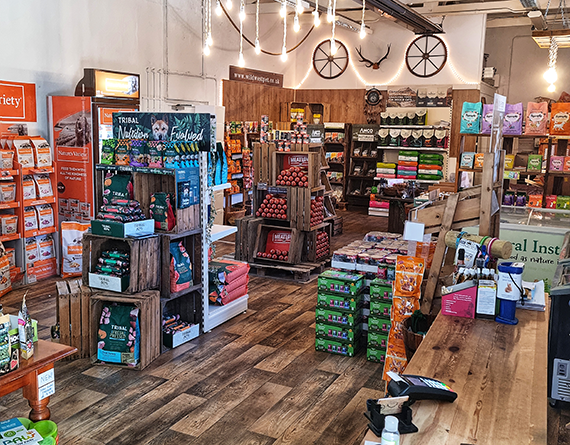 The large store is Wild West themed and its spacious aisles make it easy to view and select products
The business has gone through a rebranding exercise this year, using the area's mining industry history as an inspiration for the store's new look. It also has a new website created by Robert's brother Nick, a professional web developer.
"We feel we have a good presence with the local consumers, but it was definitely time to have a good online presence and tackle a bigger market, nationally," added Robert. "We have worked hard on creating a custom-built website that is super easy to navigate, has all the information needed and enables customers to get the products delivered swiftly – we have standard national next day delivery. We are constantly learning and implementing ways to improve the website and service – we aim to have a very successful online business as well as the store itself."
Robert has also employed the services of Lauren Otley, someone who is equally passionate about pet nutrition.
"We met when I was briefly employed at Pets at Home. We were both hugely passionate about canine nutrition, so it was inevitable that we were going to cross paths again. Her knowledge of nutrition is a fantastic asset to the business.
Robert puts the secrets of the store's success down to hard work and the dedication in making a positive health impact on people's pets.
"That really is our goal, the success follows. It is so rewarding to hear when we've made a difference to the health of someone's pet, we really understand how much their pets mean to them, they're part of the family."
MASCOT
A big character in the Wild West Pet story is pet dog Moz, a British Inuit. He's been alongside Robert during the whole business journey and has become the company's mascot.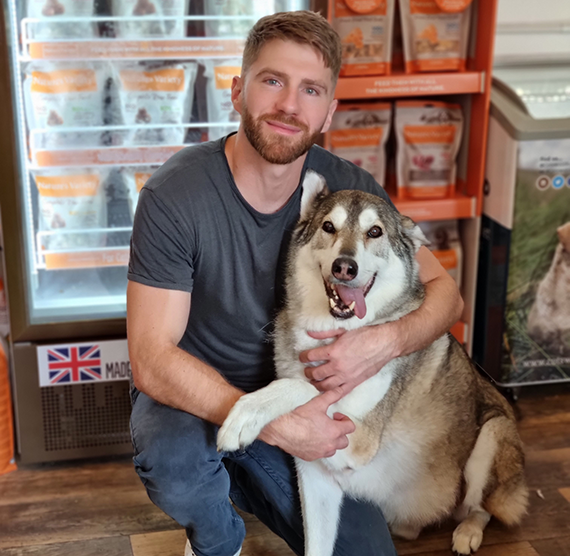 Moz is the shop mascot
"He's loved by all the customers and spoiled by regularly having treats bought for him – it saves me a fortune. He's well known for jumping into customers' cars and stealing balls and toys, but his cheeky character lets him get away with it."
Robert now has his sights set on growing the business. "There is a plan to open another store in the future, I'm just figuring out the right location. And we're looking into installing a dog wash in our store next year, improving our website and expanding our product range."