Gary and Jacqui are an energetic couple who like getting involved in the local communit
The Wag & Bone store is a dog-only destination for holidaymakers and locals alike. Director Gary Thompson, who owns it with wife Jacqui, tells the tale of how they came to own this eye-catching shop, with its special affinity for sausage dogs…
"We first chanced upon Aldeburgh in the summer of 2014, staying at the Cake & Ale Holiday Park. We'd come to take part in a charity bike ride around Suffolk and decided to have a little meander round the area the day before. Arriving at lunchtime we grabbed some fish and chips, as you do, and sat outside the White Hart with a beer in glorious sunshine thinking 'this is the life'….or it could be?'
Later that year we rented a cottage for Christmas, this time without bikes but with our white German shepherd Deefah. Then virtually every Christmas since, as well as Easters and other times in between…we were hooked on Aldeburgh!
We loved how dog friendly the whole area seemed to be and the sheer number of hounds we saw every time. It got us thinking it would be nice if there was something just for the dogs in the town.
Then, on one of our regular visits and over a drink in the pub with friends, we started to think that maybe we could open a little dog shop that would provide that 'something'- never dreaming it could actually happen. Fast forward a year and we were actually living in the area and preparing for our Easter opening!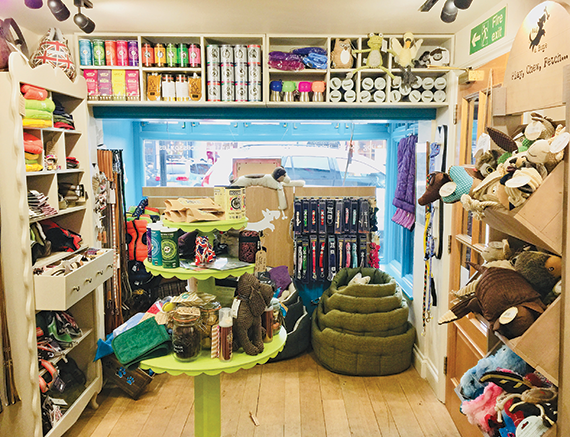 There's so much for visitors to browse around in store that they're bound to find something they like…
Before owning the store we both worked in banking and financial services for the same company. I'm a chartered accountant and Jacqui my wife was an analyst. Essentially we both 'managed our exits', took redundancy and used it to start the business. Jacqui had previously worked in the wine trade and had experience of retail and, with my financial experience and our joint passion and enthusiasm, we hoped we had the necessary skillset.
NOT "ON "THE NET
We spent a lot of time before we opened researching our products and visiting trade shows with the aim of getting items that were affordable but quality. We have lots of everyday items – that lead you need because you left one at home when you came away on holiday, for instance. But when people come in and see our range they often go for one of the more quality items as they can't get them where they live. Many of our products can't be bought on the net or in the big shops. We have chosen food and treats on the basis that they are healthy and ethical. We have a few novelty items but nothing harmful – essentially we've stocked up on a range from the everyday to the quality.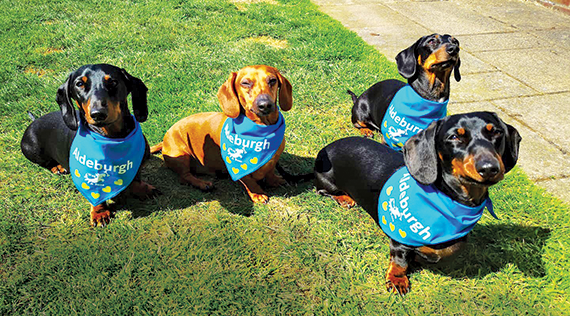 Sausage dogs are a big part of life in this Suffolk seaside town
Our USP is that we are uniquely 'dog' and that we offer a warm and personal service. We give our furry customers lots of attention and treats and demonstrate and allow them to try on any products. For example, with harnesses we've fitted more than 1,000 since we opened and pride ourselves on ensuring that the customer gets something that is right for them and their dog – good fit, safe, stylish and affordable – and you don't get that on the internet or in the larger stores. In fact, we get so many customers who have bought that way and unfortunately have ended up with something that really isn't right.
Yes, there are higher-end boutiques around but we are about providing a service to as wide a range of customers as we can, as long as they have dogs of course. Although we did sell a lead and collar for a rabbit the other day!
It is very much a lifestyle business and we both take turns in the shop and together on busy days like school holidays, and we have fallen into roles. Jacqui does the purchasing and I've apparently become a teenager again doing our Facebook and Instagram feeds, which we find a great way of staying in touch with our customer base and developing a following. We sometimes have friends help us out – a condition of a stay with us – but we don't have any additional staff as such.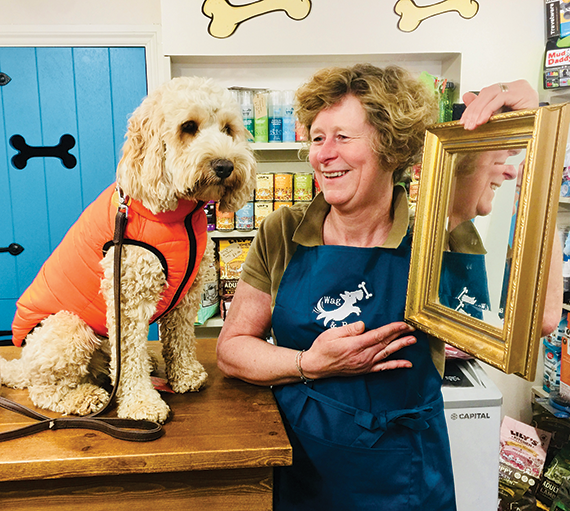 Suits you: "once the dogs have tried on a new coat..or two…it's time to show them how they look
A year in and our customers are a mix of locals, day-trippers and holidaymakers, and with the last two categories we now have a lot of returnees, which is lovely, especially in the current climate. So I guess we must be doing something right.
We do also have people who are tourists and see us for the first time. It's always great to see their reactions to some of the novelty products like Bottom Sniffer beer, Pawsecco or our 'House Fish and Chips', and our window displays always seem to cause amusement. A lot come in to try on harnesses and collars and many people are amazed that we'll let them go for a road test. We've found that people are generally very honest and we haven't had anything go 'walkies' as yet.
We change our window display every month or so and try to make it fun so it will grab attention. It's always great to see people pointing and often taking pictures.
We have the 'sausage dog' bench outside, which is a popular spot for a photo opportunity. In fact we've got a series of 'sausage on sausage' pictures in our albums, the canine sausage being a Dachshund of course.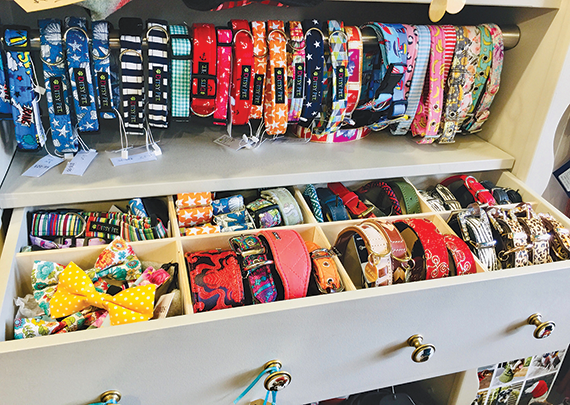 The focus on dogs means the shop can display a wide array of products
We have joined local dog communities and groups on Facebook and social media, one being the SouthwoldSausageWalk. They are a great community of Dachshund lovers based around here and a few times yearly they walk on Southwold beach. They had more than 500 sausages on the walk a year or so ago and featured on the BBC with over 1 million hits on You Tube. It's all in aid of charity for IVDD (the Dachshund's inherent back problem). They even helped, as a group, one of our local cafe owners save their dog with a £5k Just Giving campaign so it could be treated by Supervet Noel Fitzpatrick – amazing!
PAWTRAITS
Another thing we do that's very popular is 'Pawtraits' of dogs wearing an Aldeburgh bandana. I think we've probably taken more than 1,000 photos of dogs now and that's really important, it makes it personal, makes them little (and sometimes big) stars. I try to include them all in our Instagram story and some as posts and upload them all on to Facebook (our website doesn't have the capacity anymore). We also have photos on the wall in the corridor, a kind of Rogues Gallery!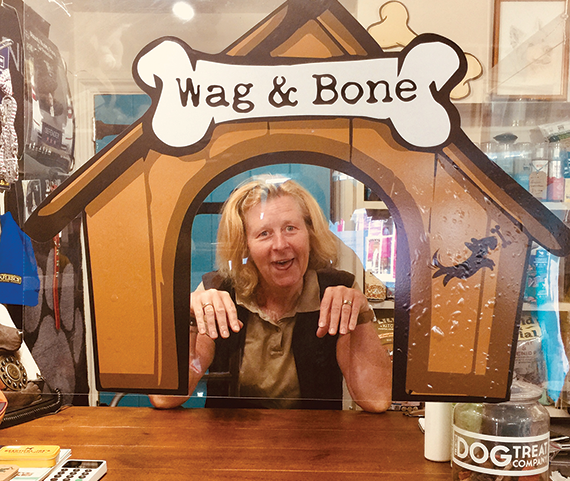 Jacqui shows the hounds how to pose for photos!
Online for us is in its infancy. I think there's a lot of opportunity there but, to be honest, it's not what we're about. If it allows us to communicate with customers we've met or to get recommendations then great, but we're not really seeking new business from it, we're more about the old-fashioned personal service that you can't get through the net. Maybe that's bad business sense but it defines us – often people will come in looking for something and we'll say that they would be best bringing the dog for a fit, and they don't always come back but mostly do! Or sometimes we will advise that it's too early to buy a coat for winter as their pup will grow – 'choose nearer the time if you can' – it's not about just making money but providing a service and developing a relationship.
Lockdown very much prompted us to get the website up and running, although we feel it's no substitute for personal service. We also did click-and-collect and deliveries for local people. It was a very strange time. Technically we could have remained opened as an 'essential service' but we felt that would not have been in the interests of the town – bringing people in etc – and so supplied people in need by the other means.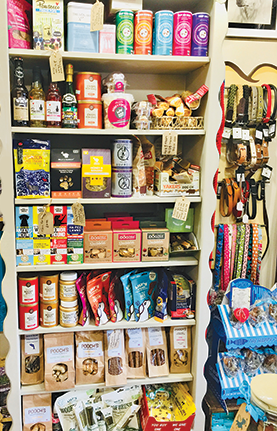 There are plenty of treats in store to tempt canine holidaymakers and locals…and their owners
Now Aldeburgh after lockdown is as busy as last year. I think the wide streets and pavements and small shops are probably far more comfortable for people than large town shopping centres and the beach is massive. It's never busy and social distancing is easy.
People do seem to be very happy to see us open again. I believe we add a bit of colour and fun to the High Street and we're also finding that a lot of people got themselves a dog during lockdown!
We have no regrets, absolutely none. This is everything we wanted it to be and more. Okay, so we're not earning anywhere near what we were before, but life is so much more fun. We're very lucky to have had this opportunity and so glad we made the leap.