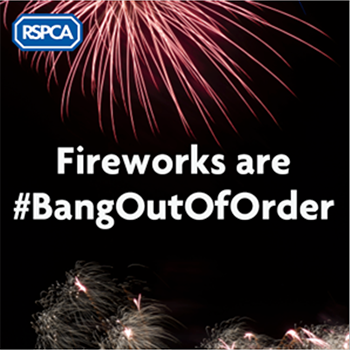 The RSPCA is piling pressure on the Government to bring in tighter controls of fireworks after a number of 'shocking' incidents in which animals were attacked with fireworks or died after being spooked.
The charity received 82 calls related to animals and fireworks between October 26-November 9 – and the RSPCA is expecting more incidents over the coming weeks as sales and displays continue into Diwali this weekend (November 14) followed by Christmas and New Year.
Dozens of dog owners reported their pets cowering in fear or uncontrollably trembling for hours, while others revealed their dogs had bolted in a panic. Four separate incidents of cats and kittens being strapped to lit fireworks were reported across the country.
Dozens of animals and staff at the RSPCA's Harmsworth Memorial Animal Hospital were left distressed and terrified on Bonfire Night after gangs and police clashed outside the clinic, in North London, after fireworks were thrown in the street.
CAMPAIGN
Pet and equine-owners are backing the RSPCA's #BangOutOfOrder campaign calling for tighter controls and regulations around the sale and use of fireworks in a bid to help animals and people who suffer with fireworks phobias and noise aversion.
The charity is calling for the use of fireworks to be restricted to agreed traditional dates (November 5, New Year's Eve, Chinese New Year and Diwali); the reduction of maximum permitted noise level of fireworks for public sale (from 120 to 90 decibels); licensing of all public displays and private displays at special events such as weddings; and better labelling on fireworks so consumers can make informed decisions on buying 'low noise' fireworks.
RSPCA animal welfare expert Dr Mark Kennedy said: "Fireworks are extremely stressful and frightening for many animals. Around 62% of dogs, 55% of horses and 54% of cats in the UK show signs of anxiety when they hear fireworks.
"All too often we hear heartbreaking stories of animals… who seriously injure themselves in a blind panic after being spooked by fireworks. Perhaps even more shockingly, we seem to be seeing more incidents reported to our inspectors of animals being deliberately targeted and injured using fireworks. Enough is enough; we need tighter controls over the sale and use of these potentially lethal explosives."