Tim and Vicki have been at the shop for nearly 12 years

Vicki Lister left a career in US politics to eventually settle in West Yorkshire with husband Tim. The pair set up The Barking Lot 11 years ago and, over the years, the shop has developed into a thriving business proudly supporting the 'shop local' campaign
I was born in Chicago, USA and moved to the UK in 2005 after meeting my husband, Tim, who is Yorkshire born and bred, in 2003. I have a degree in political science and interned with Senate and presidential campaigns in 1984, but I quickly decided politics wasn't for me. I've always been very active in animal rescue and participated in the US version of Pets as Therapy. In fact,Chicago was one of the first cities to use cats as therapy and I helped set up the programme there.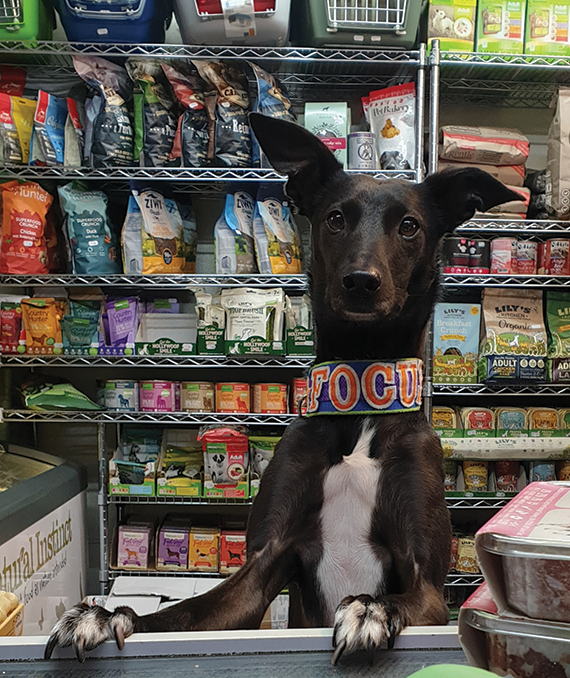 My husband was a project manager and had grown up with dogs, cats and a horse, and I had many years of retail management experience, so we combined our strengths and love of pets and took over the lease of a pet shop in Wetherby in 2009. We had a rescue dog called Cookie, who was the heart and soul of the shop for 10 years until she passed away in 2019. She loved to lay in the doorway when the sun was out and our wonderful customers never minded – they would just step over her.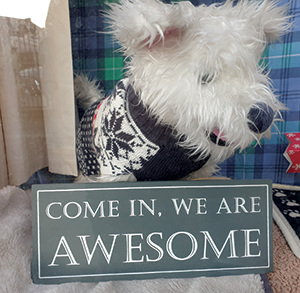 ETHICAL CHOICES
We had done a lot of product research by this time and were dismayed at the quality of some of the pet foods on the market and the number of companies that were testing on animals. We wanted to offer better alternatives. We vowed to only stock quality kibble made in an ethical way and as many wet and raw food alternatives as were available at the time. This was before everyone was clued in to healthy pet food like they are now, so we had to show people how to read the labels and what to look for. It was challenging to get established at first as we weren't selling any of the big names people were accustomed to, but at the same time we had niche products like home-baked treats and hand-
crafted toys. We concentrated on great customer service, giving out free samples and doing home taste tests, as well as offering a money-back guarantee because we were confident in all the brands we chose.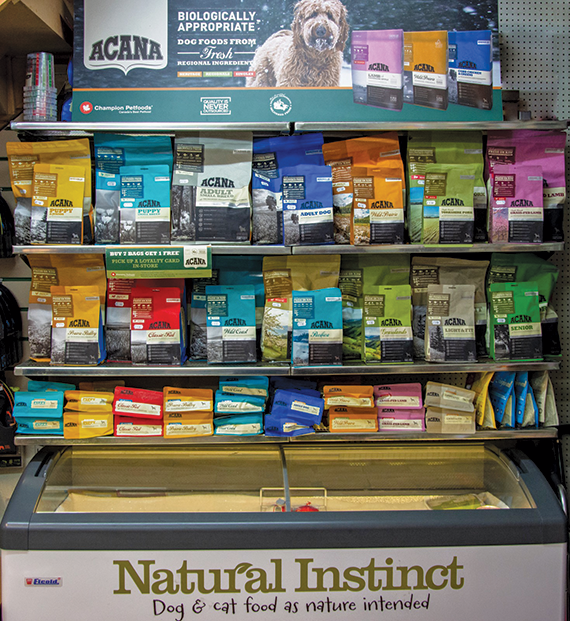 Vicki and Tim sell a large range of healthy and well-thought-through options for dog food, treats and accessories
We used the Ethical Company Organisation as a guide, which ranks and accredits companies based on animal welfare, environmental impact and social responsibility. At the beginning, we stocked every top-rated brand on the list, but it's grown a bit big now, which is a great sign for our industry. These days everyone is selling 'natural' food and treats, but this has become a buzzword for labelling and doesn't always mean healthy. Dirt is technically 'natural', but do we want it in our pets' food? So, I think we need to ask better questions, such as are the ingredients healthy, beneficial, free-range and ethically and sustainably sourced?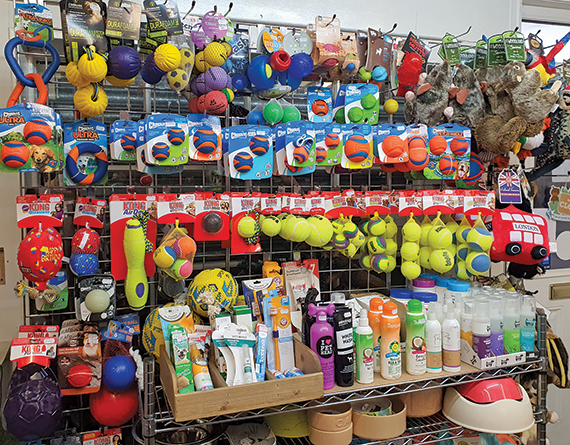 We have embraced the growing 'shop local' movement and became involved in promoting Wetherby small businesses. We have a big event on Small Business Saturday every year in December. We are fortunate that Wetherby has well established local independent businesses that people continue to support, even in these trying times.
HOLISTIC APPROACH
We have a holistic approach with our own pets, which we share with our customers, if they are interested. We can tell them about feeding their dogs a raw organic diet, using only natural flea and worm treatments and having their dog titre tested for immunity versus potential over-vaccination. If people ask for a flea treatment or wormer they always get offered natural first – I often turn down sales rather than selling people something I feel may harm their pet and I think people appreciate that.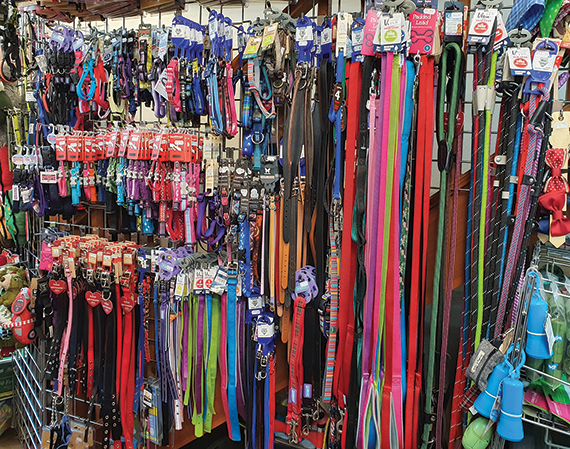 The thing I'm most proud of is our canine enrichment section, which we expanded last year because we feel enrichment is critically important for all pet parents, whether they have a dog, cat, or small mammal. There are a variety of toys, puzzles, and techniques owners can explore with their pets that are highly beneficial to their wellbeing and rewarding for owners as well. Even behaviour issues can be improved through enrichment activities and it can also be fun for the whole family.
THE TARDIS
It's hard to believe we've now been open nearly 12 years but we're delighted by the way the shop has grown. Customers call our shop 'The Tardis' because, although very small, we pack a lot in.
We've increased sales every year since we opened and, more importantly, we have a reputation for honesty, great advice – especially on holistic care – and our passion for pets. We still offer free nutritional consultations, free samples, loyalty schemes and a money-back guarantee on all the food we sell. You don't get that everywhere – and certainly not online!
PERSONAL SERVICE
Competition from online has been growing over the years but we counter that by highlighting the personal services we offer, such as harness and coat fittings, and a satisfaction guarantee with almost all products, along with excellent customer service. We sell some unique hand-made enrichment toys, and people like that. We try to add new products all the time – especially dog treats – so people aren't seeing the same old things.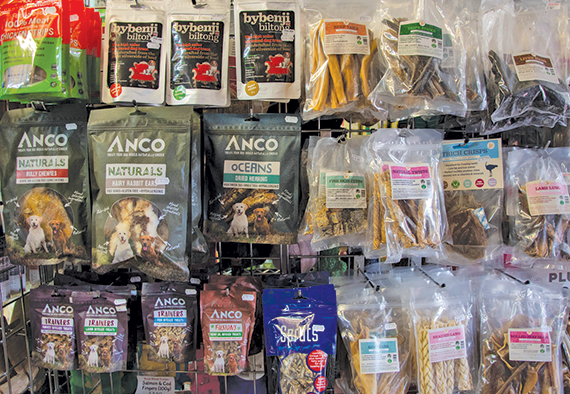 There's always something new to see at the shop
We also work hard to attract new customers, usually they come through word of mouth and our relationships with other professionals like vets, behaviourists and the local doggy day care. Recently we teamed up with two local vet practices for a rabbit and guinea pig talk, and a nutritional information event, which both went very well. We also sponsored Dog Friendly Wetherby, which calls attention to all the businesses in Wetherby that allow dogs, including cafes, pubs, shops and accommodation – there are almost 40!
GETTING THROUGH
We were extremely fortunate that pet shops were classed as essential during the coronavirus crisis. Otherwise, it would have been tough, but we still would have made it through. We offer free, contactless delivery and that kept us pretty busy. Tim does all the deliveries and physical work in addition to being in the shop every day and we have a great part-time employee and a work experience girl. Sales went down in April for the first time ever, but that didn't last long. We always keep ahead with our stock, so when people were being let down by other shops and delivery services, we were able to come through. Being such a small shop, however, we've had to limit customers to two people at a time.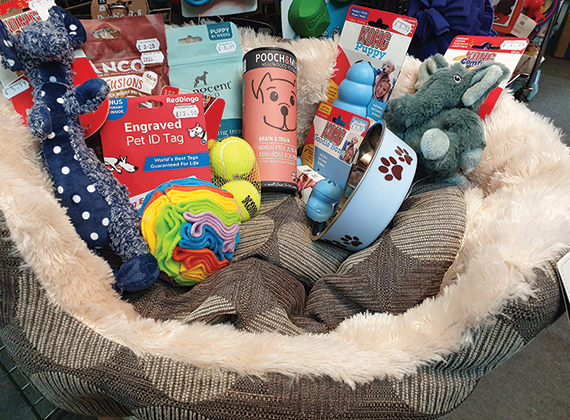 Puppy starter kit
When restrictions are relaxed we're hoping to get back to sponsoring nutritional talks, titre clinics and charity dogs shows because that's how we engage with our customers outside of the busy shop environment. We want everyone to have access to holistic pet care and the downside of limiting the number of people in the shop is that you have to limit the interaction as well, which I don't like.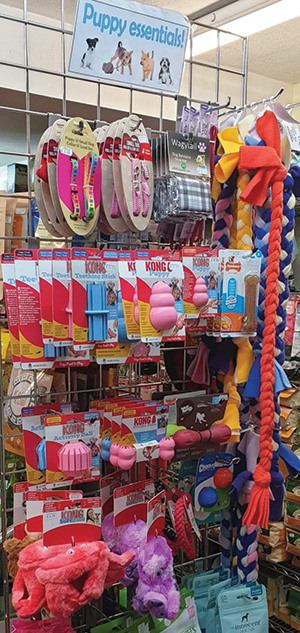 Beyond that, we need to come together as a community, to make sure independent businesses support each other when this is over, especially when not all of them will come through this, sadly. We need to keep our town vibrant and friendly with a wide variety of shops in order to continue to thrive.