Scampers Natural Pet Store became 'the trade experiment' when its owners chose to delist 'the big four' pet food manufacturers in preference for natural, high-meat brands. Sandra Pearce visits to see how the experiment has gone

From day one nearly 35 years ago, Piers Smart has been against the sale of pets in shops and a firm supporter of Lucy's Law and its principles. There are way too many animals waiting for new homes in rescues, he says, and animal welfare has always been the main focus at Scampers Natural Pet Store.
"I would rather work with and support animal welfare groups so we are not adding to the problem of abandoned animals. If people call us for rabbits, we direct them to a local rescue," he said.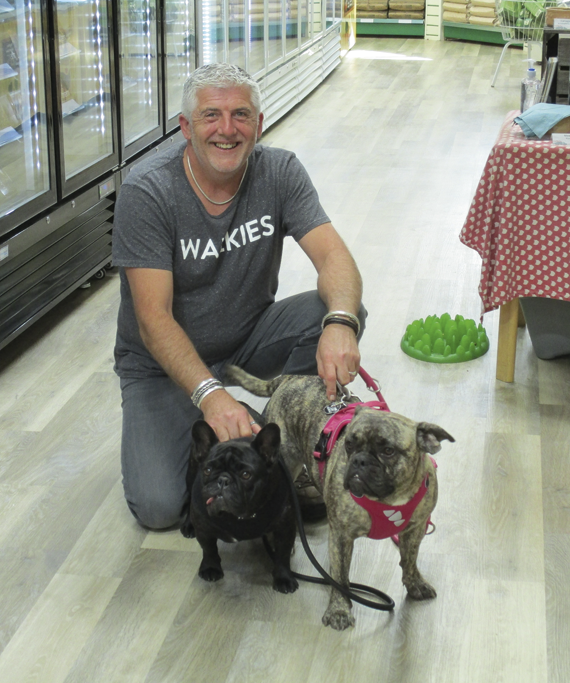 Piers with Rooster and Sardine
Piers and his business partner-and-wife Michelle have forged strong links with groups such as Phoenix French Bulldog Rescue, where Michelle is a volunteer home inspector. The couple own Sardine, a crossbreed French Bulldog who came from a very poor background, and French bulldog Rooster. Frenchies, says Piers wryly, have 'changed my life'.
With such high standards on animal welfare, you will not find items like choke chains, bird cages or small rabbit cages/runs; these are antipodal to their ethos, which is all about being ethical and having integrity. They also steer a total commitment to natural products – there is not a sniff of derivatives on any shelf in the 5,500sq ft shop. Period. One supplier suggested they trial its biggest-selling treat. "We looked at the ingredients and it contained derivatives. I told him, sorry, it does not fit my profile," said Piers. "Nothing edible in this shop comes from China, well, apart from one treat, a sweet potato, but that is USDA organic certified."
Piers and Michelle are unwavering when it comes to quality – they inspect every potential new product, from the ingredients in a food to the material in beds, to checking whether a pet carrier has been pressure tested. She said: "I've had some say why do I need to see the pressure test certificate, but in a worst-case scenario, if you have a 20kg dog in a bag and it breaks, well, I'm not going to risk it."
"If there is an ounce of doubt, it will not go on shelf," said Piers, giving as an example how they discontinued a harness that a dog broke free from.
Every manufacturer is also invited to train all their staff. Not only does this mean better customer service as staff have full product knowledge, but it also helps forge a better relationship with suppliers.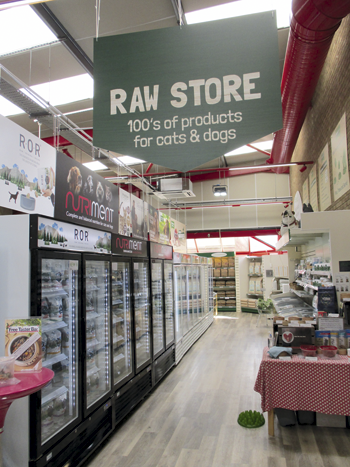 Raw becomes a focal point
Supporting suppliers
Piers and Michelle are passionate about supporting small, independent manufacturers and have helped a number gain a foothold in the trade. Walk around the store and this support is everywhere – from a double freezer filled with Different Dog's hand-cooked recipes to DOG Streamz magnetic dog collars, Diet Dog herbal supplements, King Catnip organic North American catnip toys and the Super Nature range of beneficial toppers that can be shaked or sprinkled on to food.
While Piers and Michelle visit trade shows including PATS Telford, Interzoo and Zoomark, Piers finds a number of start-ups on social media. Although they have more than 100 suppliers, they are always looking for unique, small companies with distinctive products. Piers said: "I want a really unusual range that we will work on and promote, and we will get the sales going. We want smaller companies to find us and approach us; we want to be an important customer to our suppliers."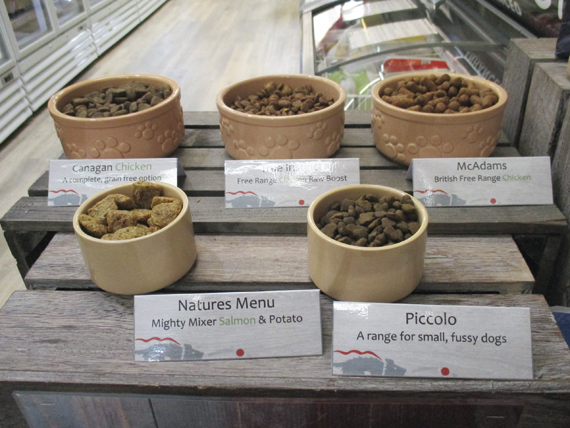 Tasting stations entice owners to let their pets try products
Most suppliers are paid in seven to 14 days said Michelle, adding: "We are essentially a zero-debt company."
Their commitment to suppliers extends seamlessly to established brands such as Whimzees, which is now 10 years in the UK and distributed through the pet trade only. Whimzees has a range of natural, daily premium dental chews in a variety of shapes, including a doggie toothbrush. At Scampers, it has a large display for its full range, including an LED screen playing a video. The Whimzees chews are much better than Dentastix, says Piers.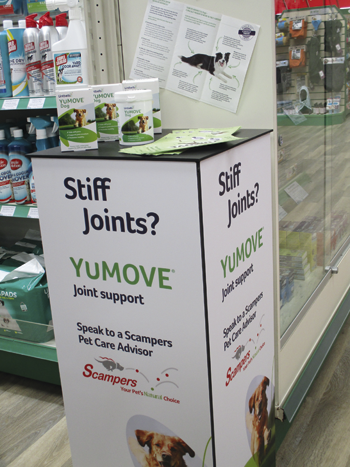 YuMove is being promoted instore
Sometimes, however, new launches don't work – and there are many reasons, including being launched too early to market. One such example was when Scampers offered a freeze-dried dog food before raw had taken off. The UK market was not ready for freeze-dried then.
"Our relationship with suppliers is just as important as our relationship with customers," he said. "We want integrity from our suppliers; it's a two-way street, we never pitch companies against each other. So if someone comes in with a new crate, we will not just buy from them because it is cheaper. It's really important for us to be working with an honest distributor, such as Vital Pet Group. Companies who value us as a pet specialist and who value the specialist industry."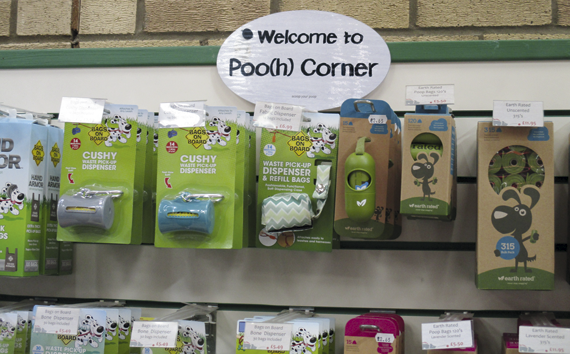 Personal touches are everywhere
Piers and Michelle have absolutely no time for manufacturers who promise they will never go into grocery but later do exactly that, or change direction in the manufacture of their products in pursuit of profit. These brands are immediately discontinued. "In my view, being ethical means walking your talk," said Piers.
Turning point
Up until 2010, pet food was their biggest seller with the lion's share of shelf space, dominated by 'the big four' pet food firms. But Piers and Michelle had been sensing for a while that something was amiss – in his words, there was 'a massive bloody problem with dog food'.
"My own dogs looked out of condition," he said, "then I saw the shenanigans that were going on, what was passing as meat, the use of terms like meat derivatives, and I started following people like Susan Thixton (author of Truth About Pet Food) and Dr Karen Becker and changed my business."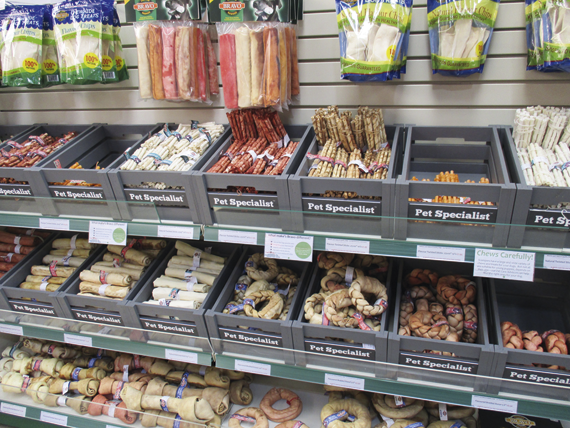 Bright selection of pick and mix
In a huge leap of faith, Scampers dropped the 'big four' (even though they were bringing in £¾m turnover), reviewed everything on its shelves, and in came manufacturers who had unique, bespoke products such as Natures Menu, Nutriment, Gentle and the Symply Group (Symply, Canagan and Picolo brands). The result was a streamlined offer of key ranges of natural and high-meat brands and the launch of its popular and widely-shared 'Where's the Meat?' campaign.
The same philosophy of 'just choosing the best' rolled out across the store to cat, small animals and wild bird – with cat, for example, staff promote natural, high-meat wet and raw ranges first before offering dry brands like Carnilove or Canagan.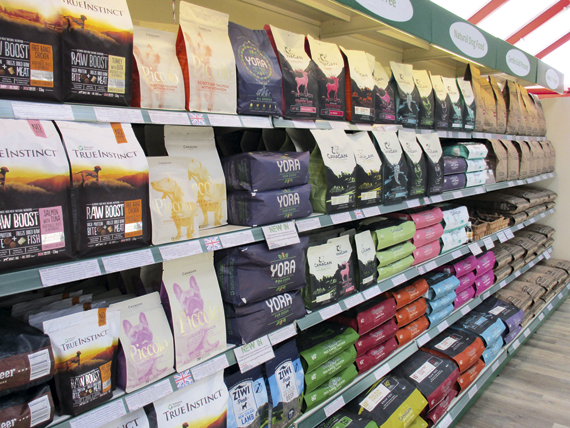 Scampers carries a select range of key brands
It was such a huge opportunity; pet owners are becoming more aware of the importance of quality ingredients, recognising the impact this has on their pets' lives, they said. Scampers was going to help owners decipher confusing ingredients' lists with clear labelling onshelf and offer only the very best quality in pet nutrition. "We were the trade experiment. People thought we were nuts – but we were right.
"Those businesses thought they owned us, but we are now truly independent. We are in charge of our destiny and our business, and our reputation has been built on that. So many others are still worried about what price James Wellbeloved or Royal Canin is on Zooplus, but being truly independent, who cares?"
More than two dozen retailers have since visited Scampers to learn from their experience and talk to Piers and Michelle about their journey – and they are more than happy to talk to retailers and share their insights.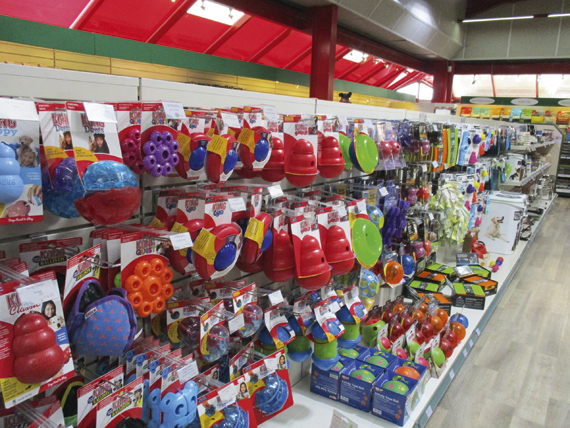 All toys are arranged according to themes, be it function or even construction material
Making things work better
Scampers went the EPoS route 20 years ago, and the data you can get from this is invaluable – both are taken aback when new products land without barcodes. "We can't sell anything that does not have a barcode," said Michelle.
Over the years, Piers has kept a close eye on purchasing patterns instore – his latest observation was how 80% of sales were being made from 60% of the shop. The result was a strategic relocation of a number of product lines such as all dog toys, treats and wet food, and adding more shelves to units in the treats section to accommodate more products. More space was given to items like dog harnesses, and dedicated space created for clearance lines. "We also have dog products placed throughout the store to encourage customers to browse," he said. "Everything is focused and targeted."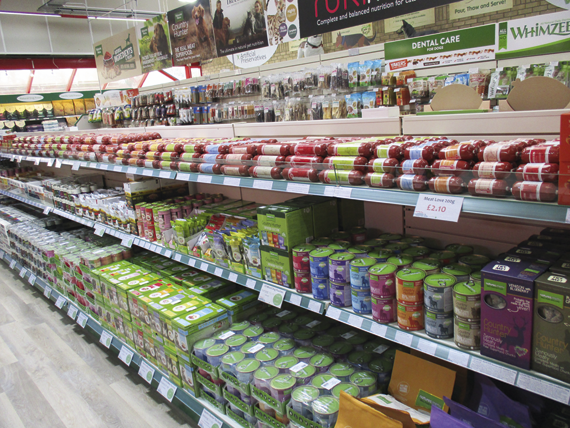 Probably the largest offering of wet dog food we've ever seen in a pet shop
For example, food bowls are placed strategically next to food, and treats opposite training toys and boredom busters. There is a rationale behind every display – even the toys are organised according to their construction material.
Piers and Michelle are especially pleased with their new floor – the previous was an ageing tiled floor. This was replaced in a mammoth two-week operation where once the shop closed for the day, staff had to cover all units, like a crime scene, and push these to one side so the floor could be levelled and screeded. In the morning, everything was moved back into place so the shop could open as per normal. This latest round of investment has come to about £140,000 (which includes air-conditioning added in September, largely for the benefit of the pet food), but they are 'pretty much done now' – apart from replacing a few animal images on the exterior of the shop. "If you want to see an exhibition of the highest-quality pet products, this is where you come," said Piers.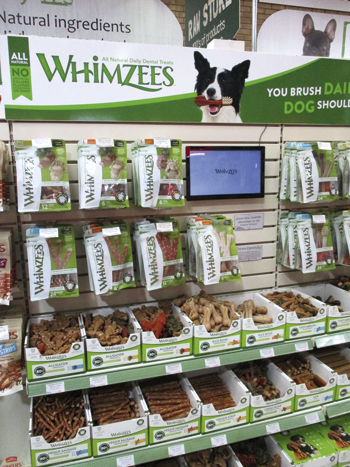 Whimzees has a large display for its full range, including an LED screen playing a video
Another recent addition is the I-Clean XL Touch PLUS dog wash, from Vital Pet Group, described as the 'most up-to-date DIY dog wash in the world' and which features the voices of 40 celebrities including Morgan Freeman and Jack Sparrow.
It's a good position to be in, said Michelle: "We are profitable, we are reinvesting and we can afford to do it."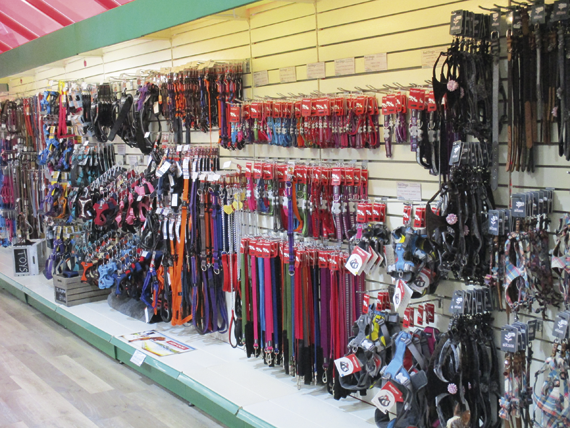 Stunning display of leads, harnesses and collars
Raw has taken off a storm; Scampers has seven double door upright freezers and six chest freezers, not counting those in its store. Initially Purrform raw cat food was sold from the cat section, but this did not work.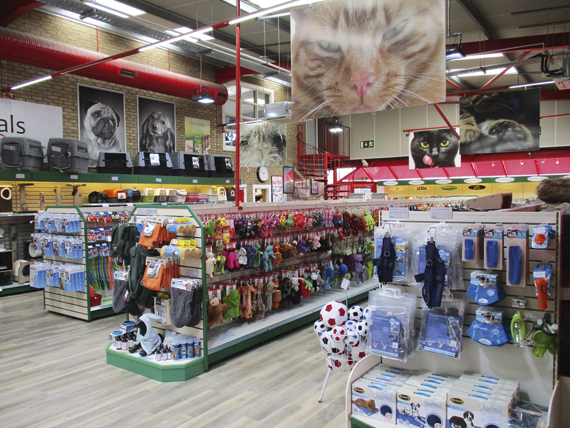 Store is 5,500sq ft
Once this was moved to join raw dog food, it all changed. It's as if cat owners suddenly saw the full impact and realised the benefits of feeding a raw diet to their pets, they said.
The I(ndependent) factor
"This business is based on bulk food declining," said Piers. "We are now selling 25% of what we used to sell in bulk bags."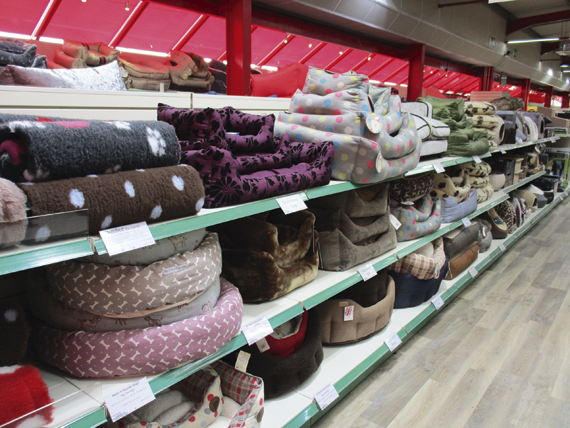 Piers says Scampers has the largest range of pet beds in the country
Chances are owners will buy bulk pet food bags online for convenience, but they will still want to visit their independent for the experience, he said. "Even if you are having bulk dog food delivered, you will still come in here and you will hand select three to four bags of treats, a new collar, a toy. That's the bond with your pet. You do not buy this online."
A bonus is there's now more space for raw and high-meat food, treats and toys, which all add to the pet shop experience. "And people want to come here for tastings."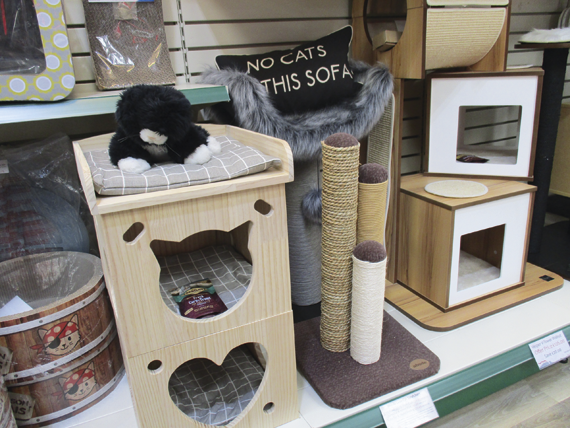 Enticing displays
Independent specialists provide a huge service, he said. "We have a lot of people who have never owned a dog before, such as millennials who may never have grown up with an animal, or people who have bought a new pup due to a celebrity having them.
"Those people come in all excited but with very little pet-owning experience – some may have bought their pups off dubious websites – and may not have the knowledge. Great pet stores serve a very important place in the community. Without us, a lot of those dogs would have ended up in welfare, not house trained, owners would not have been told the importance of socialisation, dog training, the list goes on. If we were not here, I do not know where they would go."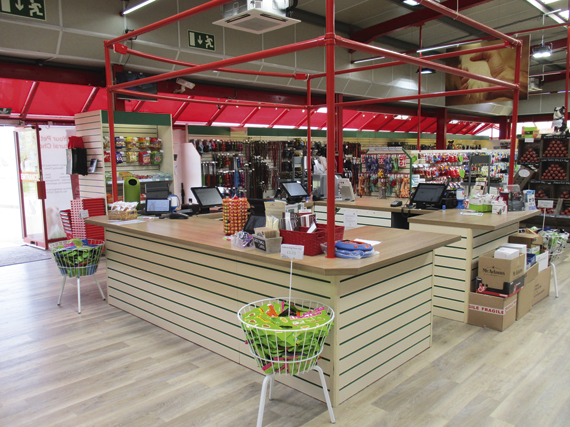 Four-sided shop counter takes pride of place
Scampers has a high staff-to-customer ratio and weekends see seven staff on duty. "It's about providing great service and chatting with people. What I think is that people love taking their pet to a great pet store. On weekends, we can easily have 100 dogs come in. Sometimes the dog comes in without the owner!" he said.
Scampers has a large customer base – there are 5,500 active subscriptions to its regular newsletter with an average of 50 new subscribers every month. "One of the things we do well is we understand our customers – I am our customer," said Michelle.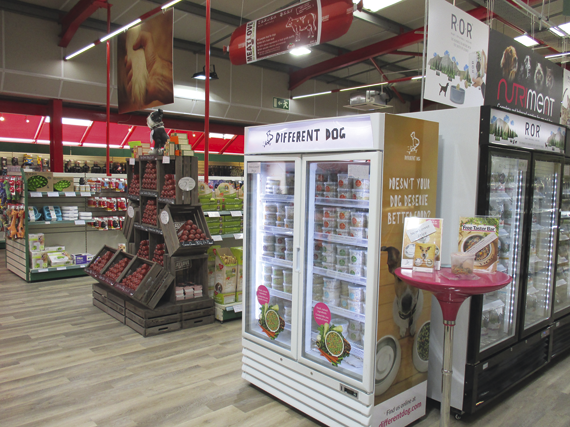 Aisle ends are used to promote independent brands
Following its recent investment, Scampers started advertising on radio again in January and has three ads talking about the store, its products and dog wash. Its tagline? 'You can't get that online.'
Piers said: "It's all about the experience. We know our customers love coming here and the experience they have here. And that's the important thing."
Pioneers
Scampers stopped handing out plastic bags about 2½ years ago and has stopped selling plastic bottles from its fridge – instead, they only sell canned drinks and bottled water, supplemented with two water fountains, one for pets and one for humans.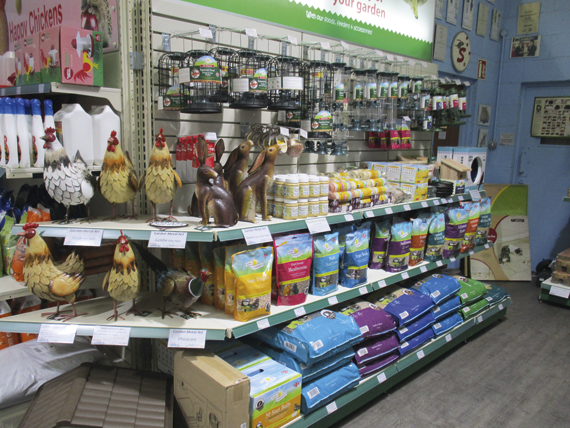 The same ethos of a select range of premium products applies to wild birds and small animals
Everything is recycled. For example, cardboard boxes are placed by the counter for customer use and other packaging is recycled.
Scampers was the first pet store to insist that pet food containing tuna had to be dolphin-friendly. It set up a pet food bank in 2013 and has been the first retailer to trial a number of new products. "It's about seeing gaps in the market and seeing what is needed. It just makes good business sense," said Piers.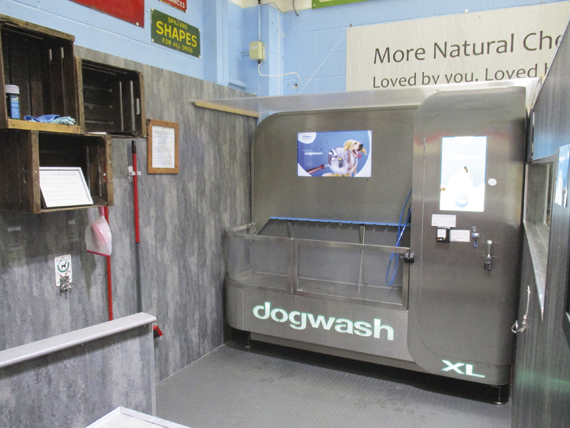 Dogwash is a new service
Gently does it

Back in 2014, cold-pressed dog food brand Gentle launched into the UK market – Piers and Michelle had worked with founder Beate Rothon to create the product and launch it into the UK.
Gentle is made by traditional German family business Markus Mühle, which has more than 50 years' experience making cold-pressed foods. It was the perfect partnership, said Michelle. "Piers understood the market in the UK, Beate was new to the UK, but knew how well the food could work."
The whole process, from creating the product using the very best ingredients to designing the packaging and marketing was just a lovely experience, she said. "We were joking the whole time."
Piers added: "Beate is the most integrous person I have dealt with. The only thing I wanted in exchange was an absolutely clear, exclusive territory to build up, and she wanted to make sure no one would sell Gentle online."
Because it is a genuine cold-pressed food, Gentle works perfectly alongside raw feeding.
"It feeds exceptionally well," said Michelle, "and we've never had problems with it."