From doggy day care centre to natural pet empire: meet the couple behind Natural Cornish Pet, who are now aiming to transform the world of natural food, treats and quality accessories for pets across the UK
The Natural Cornish Pet Company has its roots in the doggy day care business set up by owners Jordan Coombe and Katy Peck back in 2014. Jordan, who previously worked for a well-known chain of veterinary practices, and Katy, a wildlife artist and illustrator, realised there was a huge demand in the local area for a quality day-to-day dog care solution and they were right. Based on a former 13-acre golf course in St Erth, Cornwall, their Doggy Day Care Cornwall business grew rapidly and the couple were soon faced with a host of 'wonderful' new friends of both the two- and four-legged variety, plus the opportunity to help guests and owners who were frustrated in their search for quality natural and raw dog food in Cornwall.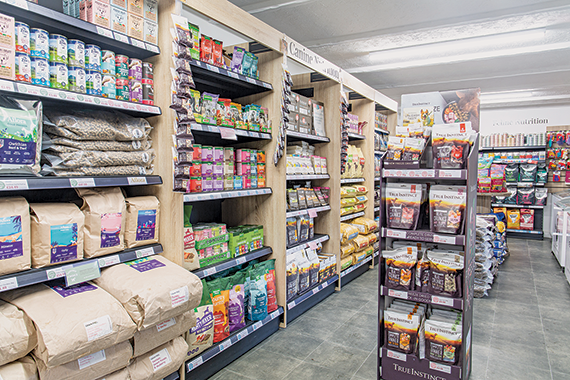 Stock is 'carefully curated' to feature items that are natural, good quality and affordable
So in 2018 the pair decided to set up shop to cater for the obvious demand for quality pet foods and goods, not only from their existing clients but from the wider dog-loving Cornish network… it was a move that was to bring their shop specialising in natural pet foods, treats and quality pet accessories to life.
Jordan explained: "Our carefully curated shop not only stocks a great selection of raw dog food products, but is also a specialist natural pet food centre that sells only the best quality wet and dry pet foods, supplements and treats to meet all canine and feline nutritional needs.
"With great service and knowledgeable staff, we aim to make choosing the right food for pets simple and accessible."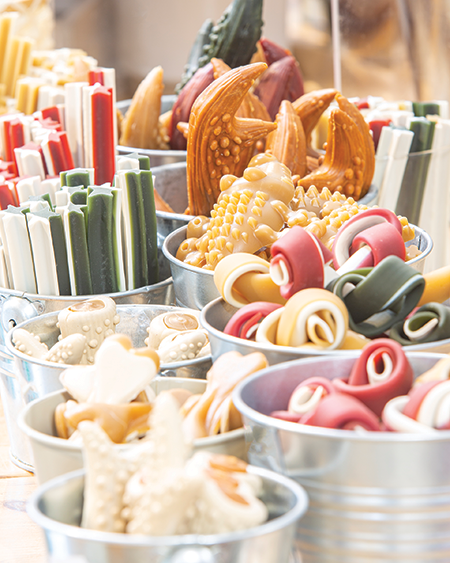 The shop itself has a distinctly 'destination' feel about it, with on-site parking, a picnic café with treats for dogs and owners, take away drinks and outdoor seating and picnic area. There is even a secure dog park available for hire. So successful has this ethos been in the 'wild west' of Cornwall, they are now set to expand the retail space even further by opening a second shop in Hayle. This will increase their storage and retail space by an extra 2,500 square feet.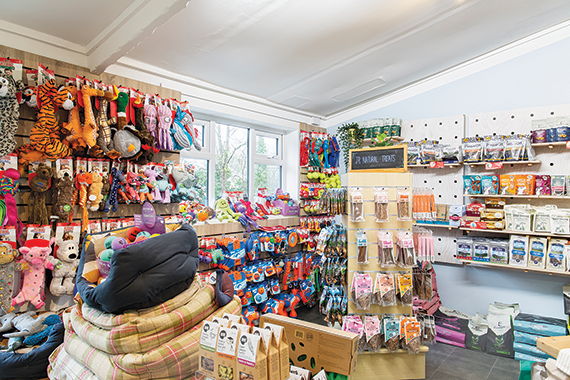 The boutique-style showroom features many eye-catching displays
During the coronavirus lockdown, the doggy day care side of the business looked after the dogs of key workers, while the pet shop upped its online catalogue to include all products from its range and added a simple click-and-collect service to help those who wanted or needed to shop from home. By adapting the business in this way they managed not only to keep on top of demand but actually to grow their online turnover by 164%.
Natural Cornish Pet now has more than 10,000 online subscribers and a rapidly expanding social media audience. It is five-star rated by Cornwall Council for dog care in the South West and has been featured in a number of publications including GQ Magazine.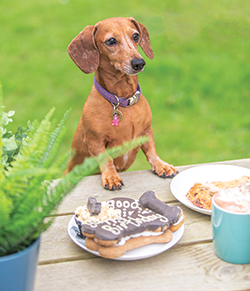 The next move is to continue the expansion of the online side of the business, with the shop held as a 'boutique' showroom featuring eye-catching displays and points of sale that promote all the benefits that a natural, simple diet has to offer. Plus the pair are keen to support the local community, including charities such as Hayle's National Animal Welfare Trust, and they work closely with the Cinnamon Trust.
HAND-SELECTED
As well as pet food and treats, the store also offers a selection of quality accessories that are not always easy to find elsewhere, such as reflective harnesses for the winter and paw balm to protect pets during extremes of weather. There is always something to cater for all seasons and all needs.
Jordan said: "What really makes our pet store stand out from the crowd is that the products customers will find at the Natural Cornish Pet are all hand-selected and considered by a team that knows what's best for pets and are chosen for being the best of their kind for both value and quality, along with being tried and tested by our own community of dog lovers that use our Doggy Day Care Centre."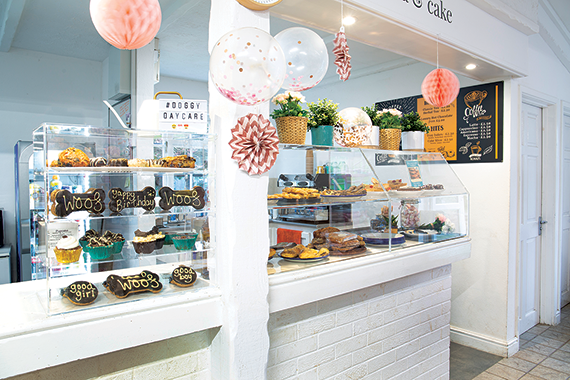 A picnic cafe makes the shop a great destination venue for dogs and their owners
As a gradual evolution of the shop, Natural Cornish Pet has developed an own-brand range to continue with its ethos of natural, beneficial and affordable products for pets. Its own-label dry and cold-pressed foods are called Aflora, a grain- and gluten-free range catering for the specific dietary needs of dogs with sensitive digestions. Products are distributed nationwide.
The own-label range has recently been expanded to include a number of innovative products such as a peanut butter developed specifically for dogs, hypo-allergenic and tempting fish treats, salmon oil and a range of natural meat treats. In addition, they have recently become a distributor for the organic, vegan and lactose-free frozen treat for dogs called Doggy, Doggy, Yum, Yum.
Jordan said: "Our range is created out of wanting the best for our pets, whilst wanting it to be obtainable and affordable for all. The range is chosen by us for our friends! Our measuring stick is this – is it natural, affordable and accessible and based on the needs of our customers?
"When it comes to stocking pet food and treats we always ask the following simple questions: would we feed this product to our own pets, are we happy with the ingredients, where they are from and is the packaging eco friendly?"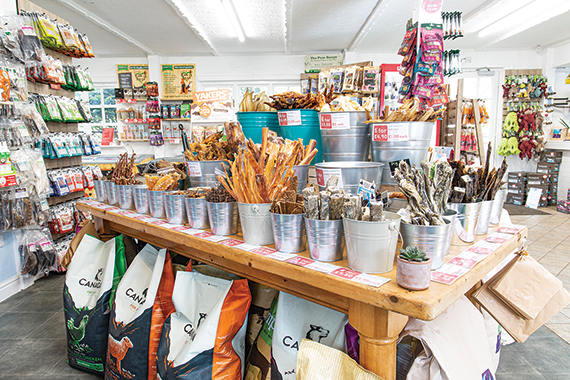 Tempting treats are displayed in an easily acessible fashion
And for those who can't make it to Cornwall this year, Natural Cornish Pet has also launched a wholesale website selling its own products to other independent pet shops across the UK, currently with dog-friendly Christmas gifts very much in mind.