Based in Didcot, Oxfordshire, the Newman family runs Didcot Pet Store and is a firm favourite in the community – but it did not start out as a pet shop!
Family-run Didcot Pet Store started selling livestock last autumn, but almost from the word go, was handed in animals for rehoming – and if anything, the pace has increased such that this spring, they knocked through a wall and converted the office and storage space into a larger store to accommodate even more livestock.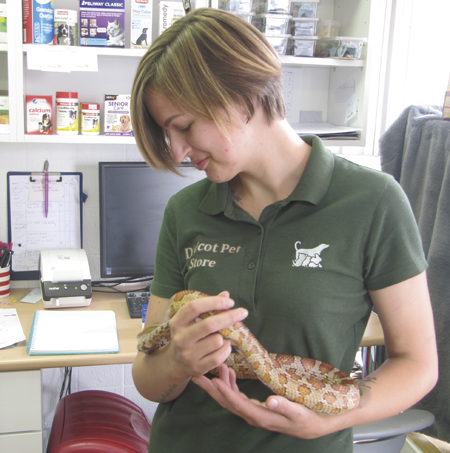 Charley holds Nigel, a corn snake that is looking for its forever home
Daughter Charley Newman said: "Rescues started as soon as we started selling livestock. Mum and dad started the pet shop about five years ago, but it was me who wanted to sell animals, especially reptiles, and I started this side of things. Mum and dad wanted to sell animals but put the brakes on as it then meant a seven-day operation. Shortly after this, I suggested that we needed to start rehoming, and it's all gone from there."
Charley has had reptiles as pets for years as well as rabbits, guinea pigs, birds and an akita. Among the animals the family has rescued and rehomed are reptiles, rabbits, guinea pigs, cockatiels, hamsters and rats. Charley has even had people come to her with cats and dogs, but has referred them to a local animal sanctuary instead.
Her latest rescues are two very thin rabbits – this is the third time this particular owner has handed in pets.
"She takes on a pet, gets bored of them, and then dumps them here. We've reported her to the RSPCA, but are still waiting to hear from them," said Charley, who added that the woman gets the animals from classified ads and Internet sites.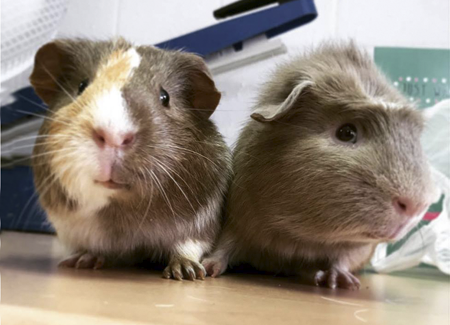 The Newmans have rehomed these two little characters
In one of the shop's enclosures is a three to four-year-old bearded dragon, who was also a rescue but because of his age, is now a permanent resident. Schoolchildren love popping in on their way home to see him. "They will bring in veg and all sorts of stuff, he gets spoilt!" she said.
All animals that are brought in are nursed back to health, and once a vet gives them a clean bill of health, are put up for rehoming. "It's lovely when we get updates of how they are doing in their new homes," she said.
Having all the animals instore certainly brings in the children, and with a primary school directly opposite, from 3pm the store fills up. "But it's good. If the kids come in, they bring their parents. Most of them in any case are just curious about the animals and ask all sorts of questions about them."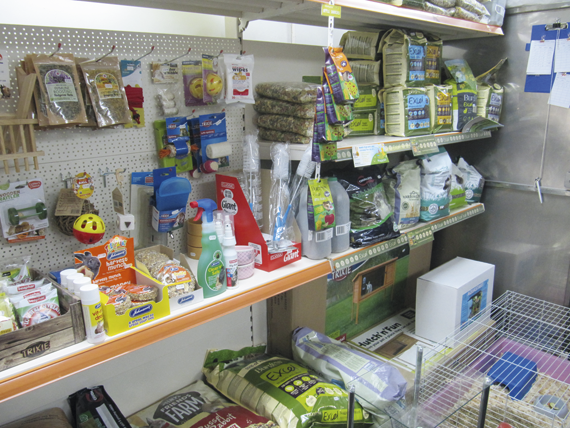 Compact small animal section
Taking on all these rescues has also helped raise footfall, she said. That and the fact that Didcot's only other independent closed recently due to retirement.
You don't know unless you try
The pet store actually began as a discount store that Charley's parents, Trevor and Audrey, used to run. As they keep chickens and dogs, they used to struggle to source poultry feed so decided to go to a wholesaler's and place a couple of bags of layers pellets instore, to see what would happen. They sold almost immediately. Customers began to enquire about all sorts of animal food and pet products, changing the store to a pet shop!
It's not a foregone conclusion as to what will sell or won't, she said. Sometimes items seem to sit forever on shelves, and at other times they just fly out the door. As members of Bestpets Local Retail Club, they will trial new products through Bestpets' scheme. But generally, the Newmans bring in new products based on customer request and recommendation.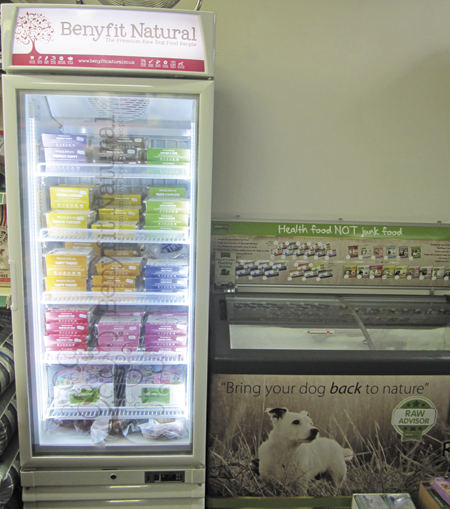 More and more customers are asking for raw food
Surprisingly, though, Charley says the 'natural bug' has not really bitten the Didcot population. "People tend to stick with what they know, and they do not really ask for natural food or treats," she said.
The store has its own-brand range of pet food, which outsells all other brands. "We're always running out," she said. "It's our most popular brand, and if customers do not have a preference, we always suggest our own-brand."
The pet store has a number of customers who are farmers and who prefer to feed brands such as Dr John's and Arkwrights, but Burns, Burgess and Skinner's are also favourites. Raw, which started about two years ago with Natures Menu, is also growing in popularity. Then customers started asking for Nutriment and they 'cannot keep Nutriment in the freezer for long enough'. The latest addition is Benyfit, which is gaining a loyal base.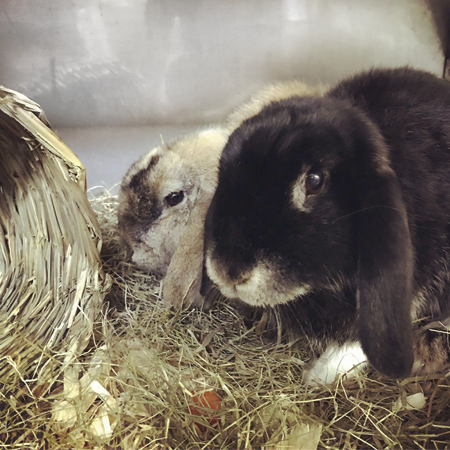 These two were handed in by a woman who 'got bored' with them…
Top seller is, however, wild bird food, which they weigh up themselves. Then Charley decided to experiment with plastic milk bottles and put out an appeal for customers to hand their used bottles in to her. Now, all their wild bird food is weighed out into these bottles, which are then sold to customers who then bring the bottles back once empty. "It saves us money in plastic bags and does our bit for the environment," she said. "We also introduced horse feeds two years ago, which has grown in popularity, along with live food."
Didcot Pet Store offers a boarding service for reptiles, small animals and birds, and free delivery. They also take in work-experience students from the local college almost every month, most of whom are on Animal Care courses.
"Many of my customers also have my mobile number," she said, "I don't mind as they are always calling me with questions about animals. It's part of our service."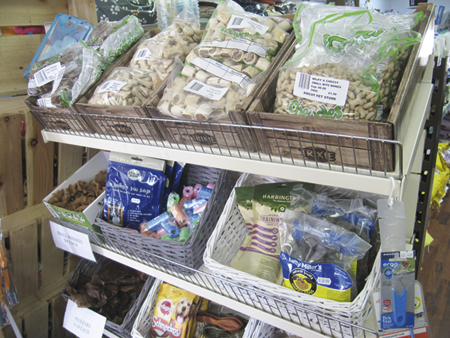 The family sells a lot of own-brand and weigh-up products
Looking ahead
Charley would like to run animal handling courses. "We see a lot of young people who want to have rabbits and guinea pigs, but may not necessarily understand what's involved in keeping them. So many people, especially with reptiles, do not know the care involved and that's why so many end up being rehomed. "I would like to run courses as soon as possible, which will give people who are thinking about taking on an animal the opportunity to handle the animal first," she said. "So with kids who want a rabbit, get them in and let them help clean, feed and brush the animal. Then they have a better understanding and experience of what they will have to do with their new pet."
She would also love to have a bigger shop, possibly a warehouse-type unit on an industrial estate. Since converting their old store into a larger shop, they don't really have any storage space and what comes in goes straight on to the shelves.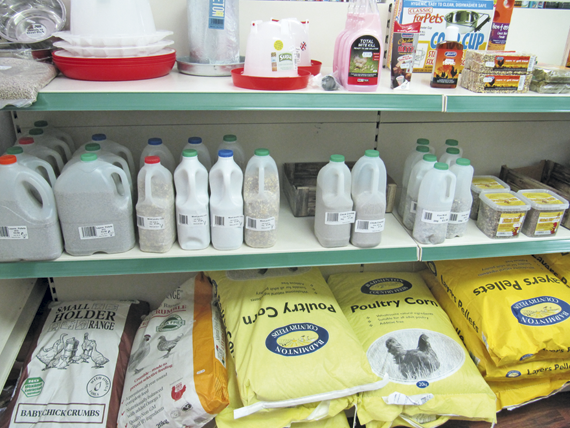 Poultry changed the direction of the shop!
"I also want to have more animals," she said. "There's no point having a pet shop if you do not sell animals! We know what we are doing is working, but we need more room. Profits are going up, and since the refurbishment, everything has gone up – profits, footfall, turnover. We are not millionaires, but business is not scary any more. Now, we can think about what else can we do or try? It's a good place to be."
The family is also celebrating its nomination in two categories, Customer Service and Environmental Impact, in the annual Business and Community Awards organised by Didcot First and the Chamber of Commerce. They won the environmental category.
Rocking the community
Rock art has become a hot favourite among younger children across the country, where children decorate and paint rocks, and then hide them for other children to find.
Didcot Pet Store supplies rocks for children to decorate and has a window display dedicated to this trend. Charley said: "It's good to get involved with the community, and to get the kids involved – it gives them a chance to do something for free, and again, gets people into the shop."