In an exclusive interview when releasing the second 'Purina in Society Report', Nestlé Purina PetCare Europe, Middle East, North Africa CEO Bernard Meunier talks on a variety of issues
Q. Purina has avoided the use of 3,542 tonnes of packaging since 2015. How was this figure achieved? And what percentage is this figure in comparison to the total packaging used?
A. Purina has spent years working to reduce the volume of materials used in our packaging to the optimum level. In 2016, as part of our 'Purina in Society' commitments, we set a target to avoid the use of 3,000 tonnes of packaging material by 2019 compared to 2015 levels.
In 2017, we avoided 787 tonnes of packaging through technical initiatives, a 3.46% reduction in packaging. In 2018, we avoided 787 tonnes of packaging through technical initiatives, a 0.7% reduction in packaging. Since 2015, we have saved a total of 3,542 tonnes of packaging through the commitment. We have over-delivered on this target by 18%. 52% of the avoided packaging material since 2017 was plastic.
Packaging information is calculated based on Nestlé global spend (including hub and local spend).
In terms of what we are doing today and looking into the immediate future – in April 2018, Nestlé made a global commitment that by 2025, 100% of its packaging will be reusable or recyclable – this includes all Purina products and is something we are working hard to achieve.
In Purina we are working on reducing both the complexity of materials and the number of different layers in our packaging. This will make the packaging easier to treat in recycling facilities.
Previously in the UK, we participated in the 2015 'Flexible Aluminum Containing Laminate Packaging Collection' project funded by DEFRA. While this technology offers a potential solution, the trial showed that more work is required for the material to be collected, sorted and transported before it can be processed.
We are now participating in a new European project called CEFLEX, which will work towards the development of an infrastructure to collect, sort and recycle all types of used flexible plastics across Europe by 2025.
Q.The report mentions 43% of seafood ingredients are responsibly sourced, up from 27%. Are you on target to achieve the 100% target of 2020? Are there plans to use suppliers that are MSC certified?
A. We have several plans in place to reach our 2020 target, of which certification is one route. We are working with our supply chain partners on several certification routes for our seafood by-products.
Our approach to responsible sourcing is delivered through our Purina Planet Committee and the work with our colleagues in Nestlé and Purina globally on establishing responsible sourcing models.
The Nestlé Sourcing Standard is an important management reference for our teams, and for our independent verification partners; it also provides a communication tool for our suppliers. We also work with external experts to review and assess our supply chain and help drive improvements.
Externally, we seek to work with certification bodies and NGOs:
> Compassion in World Farming: for matters relating to meat and poultry.
> Proforest: for matters relating to deforestation.
> Sustainable Fisheries Partnership (SFP): for matters relating to seafood.
A significant portion of our seafood supply chain comes from aquaculture so we are also working with suppliers to source responsibly. This can include material ultimately derived from certified sources. Moreover, we are sourcing predominantly seafood by-products, which are derived from the human food supply chain and where there is a complex supply chain involved.
Q. How is all of Purina's tuna currently sourced?
A. We source only tuna by-products, which are derived from the human food supply chain, and equally offer the quality and nutrients that pets need.
We source our tuna by-products from a number of suppliers and origins and as per our other seafood sourcing, we work with third-party experts such as Sustainable Fisheries Partnership to review and assess our supply chain and help drive improvements.
Q. What is Purina's position on palm oil and is Purina actively working on reducing its use of palm oil?
A. Nestlé Purina PetCare EMENA does not purchase any palm oil directly but we do have a small volume of ingredients that will be derived from palm oil. We are working with partners to map our upstream supply chain, identify any gaps and then look to make transformational activities where necessary. This is a longer-term activity given the more complex nature of the supply chain.
We, therefore, are guided by Nestlé Supplier Code, which is provided to all suppliers and referenced in all supplier contracts.
In addition, we support Nestlé's vision on palm oil as well as its Responsible Sourcing Standard. For more information, visit: www.nestle.com/csv/raw-materials/palm-oil
Q. What progress has been made on removing artificial colourants? For example, in the first report, Purina said it would remove artificial colourants from Bakers by 2017 and from main meal products by 2020.
A. In 2017, a total of 125.2 tonnes of artificial colourants were used, a 9.3% reduction.
In 2018, a total of 84 tonnes of artificial colourants were used, a 32.8% reduction. From 2015 until now, 70 tonnes of artificial colourants have been removed, an overall reduction of 45.4%. As per stated in our commitment, by 2017, we removed artificial colours from our Bakers brand and we have now also removed artificial colours from all of our Go-Cat products.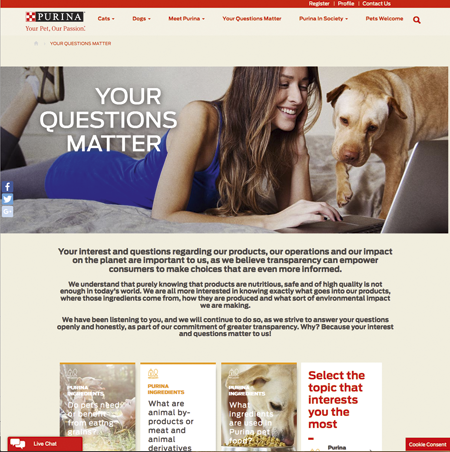 Your Questions Matter will be live in 18 countries by the end of the year
Q. Are there any plans to simplify the ingredients' list on packaging?
A. To promote transparency across our product portfolio is one of our 'Purina in Society' commitments. Concretely, our target was, by 2018, to make information more accessible by providing easy-to-understand product information and nutrition advice on- pack.
Every product now has details of the Purina Careline, and depending upon the product's size, on-pack guidance also includes feeding recommendations. We are committed to the provision of science-based and verifiable information about our products and activities.
We also follow the FEDIAF Code of Good Labelling Practice for Pet Food.
We know that on-pack labelling is not enough to provide complex information and that different communication methods should be used.
Therefore, within each country, Purina has established different social and online platforms to communicate with consumers, pet owners and other interested stakeholders.
We evaluated all our initiatives and, in 2017-18, we extended our focus on transparency to include:
> The extension of 'Open Doors' to invite key audiences to visit more of our factories – including France, Germany, Russia and Italy.
> Extending our Consumer Engagement Services from telephone to include digital/online forums across 33 countries.
> The development of different social and online platforms, for instance Your Questions Matter on our Purina corporate website – which was launched in France, Germany, Italy, Poland, Spain, Russia and the UK and has had 411,465 visitors by the end of 2018. In 2019, Your Questions Matter is expected to be live in 18 countries.
Your Questions Matter is an online platform where pet owners, pet lovers and others can find out the answers to frequently asked questions on key topics such as what ingredients go into our pet food, how are our products manufactured, how do we manage our environmental impacts and so on.
Consumers can directly ask questions using the platform and they can select how they wish to be contacted, either by phone, by email or via a letter.
Q. Apart from Cats Protection in the UK, are there plans to grow the pet adoption programme in the UK?
A. In the UK, we have been working with Cats Protection for 30 years now.
In 2018, we worked with them on a consumer campaign to drive a pro-adoption message.
The campaign centred around some of the cats in the charity's care who in one way or another are hard to adopt – for the purposes of the campaign, we call them the 'unadoptables': while most cats quickly find a loving home, some have to wait longer.
The campaign highlighted Cats Protection's work matching cats with specific needs, be they medical or social, with humans who can provide special care, or may have special needs themselves, which only certain cats can provide. No cat is unadoptable, they just need to find their perfect human match. This is the message the campaign delivered, encouraging people to speak to Cats Protection to find their perfect cat.
While we don't have a specific UK dog adoption partnership, we partner with the assisted therapy charity Canine Partners, who we have worked with for nearly 20 years. Canine Partners trains and provides assistance dogs to disabled human partners giving them vital help and support and enabling them to live fuller, richer lives with their assistance dogs by their sides. We also have a long-running partnership in place with the Dublin Society for Prevention of Cruelty to Animals (DSPCA) in Ireland, which re-homes dogs as well as many other species of animals in need.
Q. How many jobs have been created for young people in the UK?
A. When we launched this commitment, we set the target of creating 1,500 job opportunities and traineeships for young people below the age of 30 at Nestlé Purina in Europe (baseline year 2013). In 2016, we reached our target, having employed 2,429 young people since 2014.
We continue to support the 'Nestlé needs YOUth' initiative and commitments and do not report separately on this initiative – see Nestlé for further details.