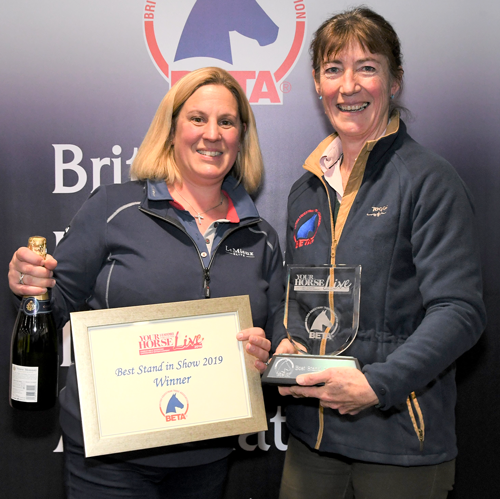 Trade association BETA sponsored the main arena at Your Horse Live, where it worked to raise awareness of rider safety and equine nutrition among the event's large consumer audience.
The pre-Christmas shopping spectacular, which took place at Stoneleigh Park, Warwickshire, was a great opportunity to highlight the start of the 2019 BETA Feed Awareness Week campaign. This national initiative, designed to dispel feeding myths and build nutritional knowledge, is now in its second year and supported by many feed companies and retailers with stands at the show.
Many visitors flocked to the trade association's stand to take the BETA Feed Awareness Week Test, with its £150 shopping voucher prize, choose a poster from BETA's colourful range of informative literature and join the BETA National Equestrian Research Panel as a means of providing feedback to the industry.
Some also took their riding hats and body protectors along for a free safety check and were given a discount voucher worth 10% off the price of a new one.
TEACH-INS
Many visitors took their seats in the BETA Main Arena to enjoy performances and teach-ins by riders such as Charlotte Dujardin, Ben Atkinson and Lee Pearson -and some were lucky enough to scoop a spot prizes supplied by BETA member companies.
"Your Horse Live puts us in front of a fantastic audience of equestrian enthusiasts from across the country," said BETA executive director Claire Williams. "Many are knowledgeable horse owners who are keen to find out what BETA and its members can offer them, and we took this fantastic opportunity to flag up different aspects of our work to them."
As part of its commitment to the trade, BETA held its Best Stand Awards and hosted an evening drinks reception where it presented the prizes. Three categories – Lifestyle, Pet & Fashion, Equestrian & Saddlery and Food & Beverages – were judged according to set criteria and silver and gold standards awarded.
In the Lifestyle, Pet & Fashion section, gold was won by Finer Equine, Honest Riders and PetPlan Equine, with silver going to Hooves and Love and Katie Hough Equine Art.
In Equestrian & Saddlery, gold was presented to Joshua Jones, Horse Health – which also took Best in Show – WOW Saddles, Dengie Horse Feeds, Ayr Equestrian and Allen & Page. Silver went to Wychanger Barton, Simple System Horse Feeds, Elevator Equestrian & EquiAmi, Equilibrium Products, Westgate Labs and Fynalite.
In the Food & Beverages category, gold was awarded to The Cheese Wedge.