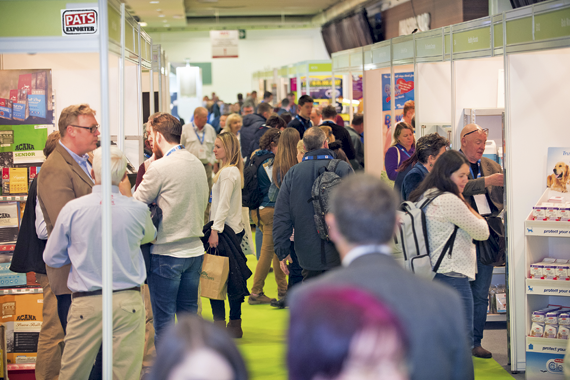 The UK's number one pet trade shows – PATS Telford and PATS Sandown – are set to have a strong international presence with a growing number of pet buyers and exhibitors from around the world expected to attend the shows.
In a further move to create more interest with international buyers, the PATS team will be travelling to Bolognia in Italy this weekend to exhibit in the British Pavilion at Zoomark.
"Our primary aim for exhibiting at international shows is to meet, talk to and encourage international retailers and distributors to come to PATS, both in Telford and Sandown," said Gordon Thomas, of Impact Exhibitions, organisers of PATS.
"We will also be working with PetQuip on the PATS International Buyers' Programme, identifying key European pet product buyers and inviting them to visit PATS Telford.
"This programme has been successfully running for three years and at previous PATS exhibitions we've attracted buyers from 15 countries, including Germany, Spain, Netherlands, Sweden, Denmark and Switzerland.
"All buyers on the programme take part in the PetQuip 'Meet the Buyer' sessions, which take place at the International Buyers' Centre at PATS Telford."
With its proximity to both Birmingham and Manchester airports, Telford International Centre – the home of PATS in September – is an ideal location for international visitors.
"UK pet products are very popular and representatives from international pet companies can see the advantage of meeting up with British suppliers all under one roof," added Gordon.
"They agree that PATS is the perfect venue to discover what's new in the market for the year ahead, and an ideal opportunity to talk to UK-based manufacturers and suppliers.'
Visitors to PATS Telford under the International Buyers' Programme will also receive an invitation to the prestigious PetQuip Awards gala dinner, taking place on the evening of Sunday, September 22.
With five months to go, more than 130 companies have already booked their stand space for the Autumn showpiece, while PATS Sandown is two-thirds full as 80 exhibitors have confirmed their place at the Spring event.
A full list of exhibitors can be found on the PATS website www.patshow.co.uk where visitors can also register to attend for free.
Dates for your diary:
PATS Telford: September 22-23
PATS Sandown: February 9-10, 2020