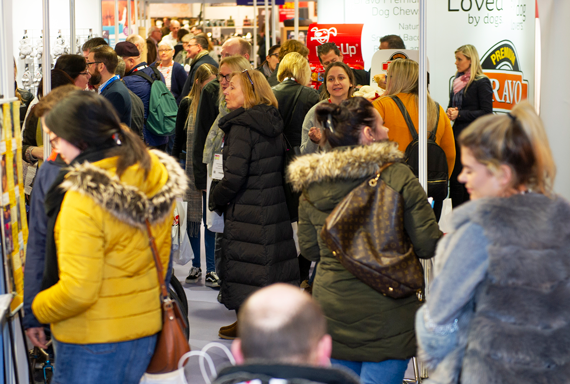 Pet stores and garden centres can register now for free entry to PATS Sandown, the UK's spring pet industry exhibition, where the leading brands will be showcasing their new products and services under one roof.
More than 150 companies and brands have booked their stand space, so retailers and buyers can be certain the exhibition halls at Sandown Park Exhibition Centre in Surrey will be packed with hundreds of new products.
As well as meeting up with a long list of PATS regulars, visitors will be greeted by a host of new faces when the show takes place on Sunday, February 9, and Monday, February 10.
So why should retailers register now for free entry to the two-day exhibition?
Here's just a quick summary of popular visitor attractions:
> The biggest and best showcase of new pet products
> Unrivalled show offers and competitions
> Top groomers giving insightful demonstrations, workshops and talks
> Leading pet industry figures delivering informative seminars
Tina Quest, senior buyer of Redpaw Pet Supplies in Plymouth, Devon, said: "This show has everything – a great selection of exciting new products and a wide variety of exhibitors. As retailers we are spoiled for choice. We always seem to spend far too much money on new stock for our shop but the investment is well worthwhile. It's a brilliant show."
Parking is free, and everyone will receive a free tea and coffee, and a free show catalogue.
Exhibitors are well advanced in their preparations for PATS Sandown and are excited about show their new products.
Tyler Daly, of Paleo Ridge Raw, said: "This is one of the best events we've found to connect with existing stockists while also getting the opportunity to discover and connect with potential new customers. PATS Sandown is great for showcasing new products and seeing what exciting innovations are coming out of the pet sector. It's a very important date in our calendar."
And Grantley Rogers, of 3P Enterprise, added: "PATS provides us with an opportunity to meet our customers and listen to their needs. It also offers a great platform for us to launch new products and improve awareness of our brand within the trade."
You can register on line at www.patshow.co.uk where you'll also find a full list of exhibitors and information on how to reach the venue.