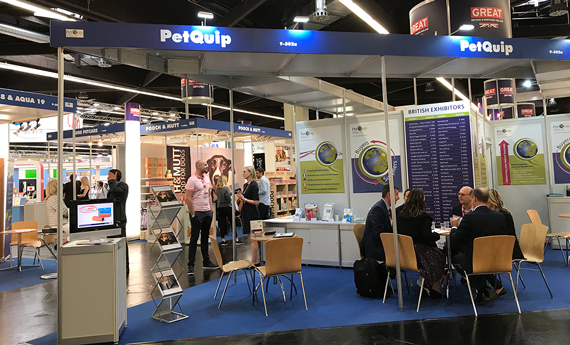 PetQuip is already planning for the rescheduled Nuremberg show next June
UK pet care companies are being encouraged to make the most of the advantages available to exhibitors within the PetQuip-organised UK group at next year's Interzoo, which has just opened up for bookings.
The British trade association is already planning for the rescheduled show, which will now take place in , Germany, on June 1-4, 2021. The international pet trade exhibition was due to take place in May this year but was postponed because of the coronavirus pandemic.
Now bookings for Interzoo 2021 have now opened and UK companies wishing to take a stand have the opportunity to either join the UK Pavilion or exhibit on an independent stand with the benefit of all the support, information and advance publicity offered by the multi-lingual PetQuip team, who will be based on the PetQuip industry information stand within the pavilion in a prime location at the show.
PetQuip has organised strong UK groups at Interzoo for many years as one of the Department for International Trade's Trade Challenge Partners. Interzoo will be on the bid list as always for cash grant funding for eligible SMEs taking part, which PetQuip administers and distributes.
EXPERIENCED TEAM
Director general Amanda Sizer Barrett said: "Following the postponement of this May's edition of the show, the PetQuip association team is looking forward to supporting UK exhibitors at Interzoo in 2021.
"Our experienced team has already reserved space in a prime location for the UK exhibitor group at this event. We provide a comprehensive show support package for exhibitors, which includes organising space and stand-build if required, plus advice and information on all aspects of exhibiting; excellent international PR coverage before, during and after the event; a multi-lingual Product Innovation brochure, which will be sent to international buyers drawn from our exclusive database; plus help during and following the event to maximise sales leads and guidance on converting these to new export sales.
"A total of 56 companies were part of the PetQuip UK exhibiting group at Interzoo in 2018 and demand for exhibition space in the prime location we have reserved is already very high for
2021."
Interzoo the most important overseas exhibition for the British pet care industry, with an expanse of more than 120,000 square metres of exhibits.
TRADE BUYERS
Trade buyers visit the show from every continent; 74% of those at Interzoo 2018 came from outside Germany and 94% of the exhibitors made new business contacts and were happy with the quality of visitors met.
No other international trade fair for pet suppliers offers a more comprehensive product spectrum. Themes such as equestrian sports, pet food technology, shop fittings, IT systems etc are represented as well as traditional products for dogs, cats, small mammals, birds, aquaria and terraria.
PetQuip has already received a tremendous response from UK companies interested in exhibiting in the UK Pavilion at Interzoo 2021 and is urging those businesses thinking of attending to register their interest now.
Companies interested in exhibiting at the 2021 show should contact Katie-Mai Smith at [email protected] for further information or visit www.petquip.com to register their details and for stand information, costs and booking forms as these are available.