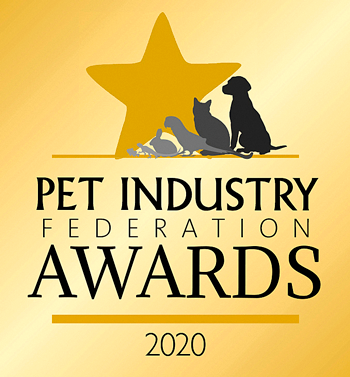 The 2020 Pet Industry Federation Awards are now open for entries through the Petindex website (www.petindexshow.com).
The Awards have moved to a new time of the year to coincide with trade show Petindex, which takes place on April 26-27 at the Marshall Arena, Milton Keynes. Organised by the Pet Industry Federation, the trade association for pet businesses, the PIF Awards celebrate success across a wide range of products, services, companies and individuals and provide a platform to recognise excellence and innovation in the industry.
Pet businesses are invited to submit a nomination across the 16 categories available this year:
1). Product Innovation Awards – Dog, Cat, Reptile/Fish, Small Mammal/Bird
(to be judged at Petindex)
2). Manufacturer of the Year
3). Wholesaler or Supplier of the Year
4). New Business of the Year
5). Grooming Business of the Year
6). Kennel of the Year
7). Cattery of the Year
8). Pet Service Business of the Year
9). Home Boarding Business of the Year
10). Dog Daycare Business of the Year
11). Online Business of the Year
12). Exporter Award
13). Green Award
14). Pet Retail Chain of the Year
15). Independent Retailer of the Year
16). Special Achievement Award.
Those interested in applying should check the list of criteria – available at www.petindexshow.com – and cover the areas that judges will be looking for in the entries.
Entries must be submitted to [email protected] by Monday 3 February 2020, and shortlisted companies will be announced in the March 2020 issue of pbwnews, the event's media sponsor.
The winners will be presented with their awards on Sunday, April 26 at the DoubleTree by Hilton Hotel, Milton Keynes – on the same site as the Petindex trade show, providing a convenient way for companies to visit or exhibit at the show, and then enjoy a black-tie dinner with entertainment in the evening.
Sponsorship opportunities are currently available for the Awards categories. Further details on these or any other aspect of the event are available at www.petindexshow.com, or from Daniel Everett on 01234 224507; [email protected]