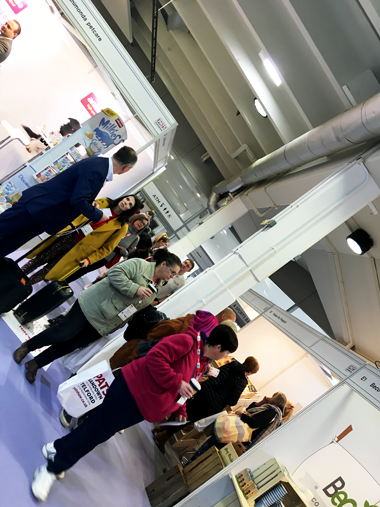 Early signs are that PATS Sandown's move from March to this year's earlier February slot – and with the opening day on a Sunday for the first time – was a hit with both exhibitors and visitors.
The first day of the Surrey trade show was busy from the outset, attracting a significant number of independent retailers, with a queue forming ready for the show to open for business.
Exhibitors were pleased with both the quality of enquiries and orders generated from the many visitors as well as the footfall – and an upbeat atmosphere echoed throughout both the Surrey and Esher Halls.
The Golden Paste Company was one of more than 40 companies exhibiting at PATS Sandown for the first time, and managing director Janine Kell said: "The interest we've had from the retail industry has been phenomenal. We've been run off our feet, which is so exciting. We decided to do a big push on the pet market this year and coming to PATS has been the perfect start for us."
To cap a great day, the Golden Paste Company won a New product Award for its turmeric supplement.

INDEPENDENT
Two other newcomers to the Sandown exhibition – Aquamat Chiller and Gravitis Pet Supplies – were equally happy about the show's day one success.
Aquamat Chiller director Alison Roberts said: "We haven't stopped since we arrived at the show and, what's more, the interest has come from independent retailers, which is the market we were aiming at."
And Maris Gravitis added: "So far it has been a very good show. Lots of people have been to our stand and we already have some strong orders. I am very happy to be here and excited about how it can help us to grow."
Another success story on a memorable opening day was Marriages Specialist Feeds, which picked up a New Product Award. Managing director Sam Marriage said: "PATS is a really important launchpad for us and we try to come to every single show with at least one new product. It's really good that PATS supports us in the industry with these awards as it helps to keep innovation in the market."
Ryan Winwright, trade manager of Nutriment added: "PATS is the key show to come to for new business and to talk to our existing customers. This is the first time it's been on a Sunday and I think it's really paid off. There are a lot more independents and pet boutiques that we haven't really had access to until now. It's been a great show and it's only the first day."
BRILLIANT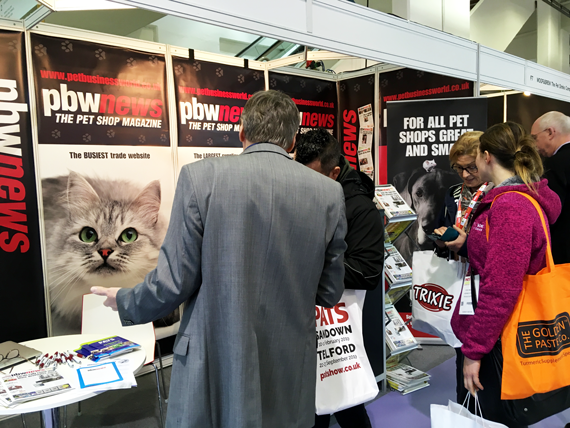 .
Inspired Pet Nutrition (then known as Wagg) was the first company to book a stand with PATS in 2009 and has been attending ever since. Trade sales director Ben Anderson said: '"Wow, this year's show has been brilliant so far. Moving the show to a Sunday has certainly brought out the independent retailers and added a new dimension to an already successful event."
The show is also attracting international interest. Belgian exhibitor Coucour brought its new Himalyan cheese dog snack to the UK market, and sales manager Jorge Aguilera said: "Congratulations to PATS. Your show is fantastic…the organisation here is so smooth. We've had a very enjoyable day."
The first day of the show also got the thumbs-up from visiting retailers.
Laura Palmer, of Mutleys Pet Munchies, in Swaffham, Norfolk, has been attending PATS exhibitions for nine years and she felt this year's show had been the busiest. "There are lots of new exhibitors and a great variety of products being launched on to the market. As a retailer you must be here," she said.
And Susan Lynn, who is setting up a boutique pet shop in Hampshire, said: "This is an excellent show. We're here sourcing unique items we might want to stock and there's a great variety of specialist products, which is just what we were looking for."
Garden centre buyers were also impressed with the first day of the show, with Planters of Tamworth's Josh Winter saying: "It has been a fantastic day and well worth the trip down from the Midlands. I'm really impressed with all the new products being showcased."
Grooming demonstrations and workshops returned to PATS Sandown after a two-year absence and created a buzz in the Esher Hall. Dog groomer Francis Worth, of K9 Nanny, Epsom, said: "This is my first visit to the show and I'm very impressed with the organisation and quality of the exhibitors. I'd give this exhibition a 5-star rating."