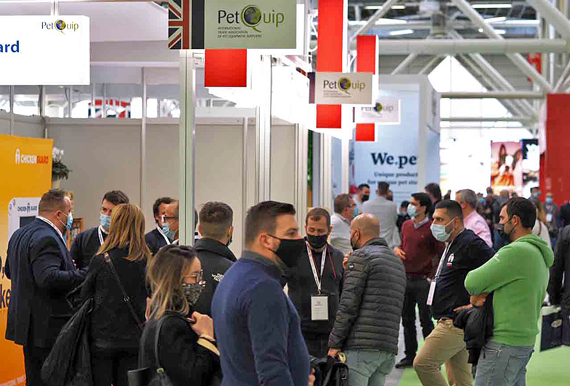 Exports of British pet products are set to increase following the participation of UK suppliers at the Zoomark International pet trade show held in Bologna, Italy.
The exhibitors were part of a PetQuip-organised group, and early reports confirm that worldwide enquiries have been received, export orders have been won and valuable overseas distributorships secured.
PetQuip's industry information stand attracted unprecedented interest from overseas visitors, including buyers from Serbia, Turkey, The Netherlands, Belgium, Spain, Czech Republic, Denmark, Sweden, Finland, Germany, Romania and America.
The organisers of Zoomark International also rated the show as a huge success in terms of exhibitor numbers, international attendance and business targets being met. There were more than 450 exhibitors at the show, 60% arriving from 44 different countries, and a high number of overseas visitors attended in spite of travel limitations on certain geographical areas imposed by the pandemic.
Here's what some of the British exhibitors had to say:
The team at ChickenGuard saw great interest in its unique product and founder Ben Braithwaite said he was thrilled to be at the show. "We were keen to be out networking again and it paid off. We're glad we made the decision to attend."
Thomas Wastiaux, senior international sales manager and director of the Italian branch of Canagan Pet Food was happy with the quality of enquiries he received, pointing out: "All visitors to our stand were serious buyers who knew what Canagan was about. It was a good show."
We.pet was a new exhibitor at Zoomark and there was a lot of interest in its brands Frogg, Sense6 and King Catnip. "We've had a fabulous reaction to our products."
Glenn Rankin, managing director of Yora, said it had been a good show for the brand and had given him the confidence to be a part of the next British group at Interzoo in 2022.
Tribal Pet Foods' Fatima Maktari also gave the exhibition the thumbs up, saying: "It was good to be back meeting our customers face-to-face again."
Naturo Pet Foods, a leading brand from Mackle, reported doing good business at the show with commercial director Elaine Hall entertaining current clients and welcoming new customers as well.
Ben Windeatt, head of UK retail and international sales for Pets Choice, said: "Having pre-arranged meetings with both existing and potential international distributors throughout the three-day event made for a highly productive show. We found the quality of visitors to be extraordinarily high, and as a result there was greater opportunity to develop significant business partnerships in the future. Our attention now turns to developing those initial discussions."
Hownd bought a 'base space' on the PetQuip stand to gauge a response from international visitors, having not exhibited at Zoomark before. The company's products proved so popular that commercial director Mark Hirschel said: "I can see the potential for this show. I will return with a stand in 2023."
The positive outcome and reactions at Zoomark brought the following response from Katie-Mai Smith, events manager for PetQuip: "We were pleased with the success of our first overseas group following the pandemic – Zoomark and Bologna welcomed us with open arms."
The association's focus now moves to the next international show in Europe – Interzoo – which takes place in Nuremburg, Germany, on 24-27 May 2022. "We are now building momentum from this and looking forward to Interzoo," said Pat Flynn, Trade Association Manager at PetQuip.
"We only have a few exhibitor spaces remaining in a prime area of the show so for firms that are considering exhibiting in May next year, I urge them to get in touch. Following the contacts made at this event, all indicators are that Interzoo will be a tremendous occasion for networking and doing business."
For further information on all the commercial advantages of taking part in the British exhibitor group at Interzoo, contact Katie-Mai Smith at [email protected]