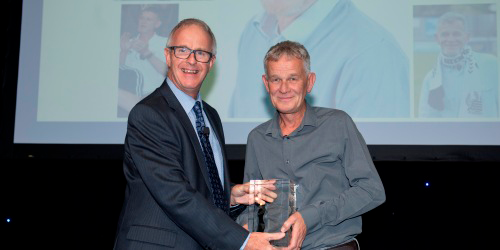 Aqua One managing director Mark Winter has been recognised for his work in the aquatics industry by being awarded OATA's Lifetime Achievement Award.
He was presented with the award at the AQUA 2019 show dinner, at the Telford International Centre, by Dr David Pool.
Mark has worked in the aquatics trade for more than two decades, first with OASE before he went on to set up Aqua One in the UK. He has also been actively involved in the AQUA show behind the scenes, lending his ideas and expertise to the organisers through his work on the steering committee. He also sat on the OATA board for a number of years.
"Mark is a very worthy winner of this award," said OATA chief executive Dominic Whitmee.
"We know from his time on the OATA board that he is full of ideas and has huge experience of this industry. He has given a lot of his time voluntarily to improve the trade both through his time on the OATA board and also his long-standing contribution to planning for the AQUA trade show."
Mark was involved in the creation of the AQUA show and has been involved ever since. He joined the OATA board in November 2012 and stood down in October last year.