A college-leaver who dreamed of zoos and kennels instead found his job for life when he stumbled across his first role at koi specialist the Ornamental Fish Farm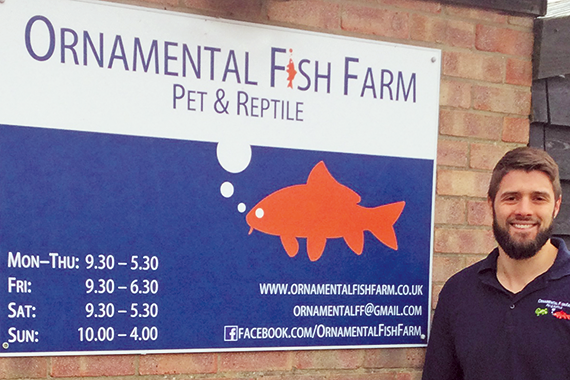 When Peter Cianciola headed off to his first job after leaving college, he could never have envisaged that one-day – nine years later – he would be the owner of it all.
Peter originally wanted to work in zoos or kennels, but instead took a job at the Ornamental Fish Farm in Fornham All Saints near Bury St Edmonds, Suffolk.
The Fish Farm is a koi, tropical fish and pet centre, run at the time by David Newman, who had set it all up from renovated pig sheds in the mid-1980s.
The shop grew over the years as more former pig sheds were called into service and the resulting set-up has given the place a charming 'higgledy-piggledy' feel, with surprises around every corner. It's no great surprise then that the shop is often referred to as an Aladdin's cave of delights.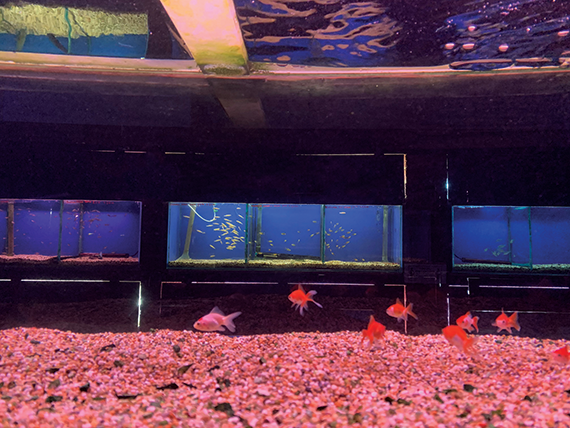 Fish tanks lit through the dark quickly catch the customer's eye
Peter learned the trade from David, who taught him everything he knew 'and more'. But then it was time for a change and, fortuitously, just as Peter was beginning to get itchy feet and feel that he wanted to work for himself, the opportunity arose to purchase the shop. He was just 28 at the time.
"It was a pain to get the finance," Peter explained. "I had to traipse round a lot of banks and do a lot of business planning, but in the end Lloyds was the most supportive bank and I went with them."
With the help of his parents, the bank and a government-backed Enterprise Finance Guarantee (EFG) loan, Peter took the project on – a daunting prospect but he was full of ideas about how to make positive changes while keeping to the original ethos of the place.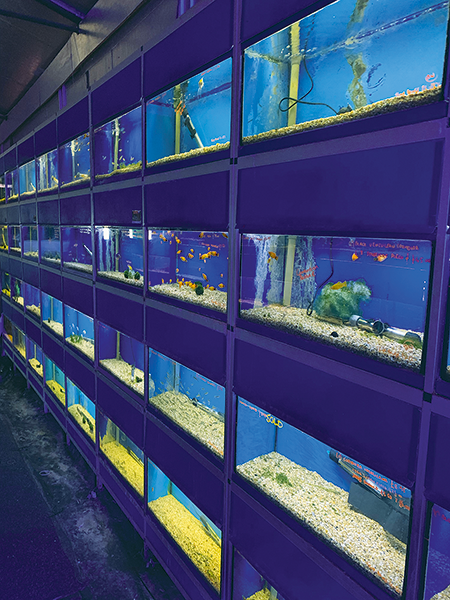 "I'd always fancied running my own business," explained Peter. "Originally I was going to own it with someone else but then he pulled out and I decided just to push ahead and do it all myself."
EXOTIC LIVESTOCK
A huge animal lover, it never occurred to Peter not to stock the livestock and fish the store was so famous for, in fact he wanted to do more of it. He soon got stuck in to tackling all the licensing and ensuring all the correct paperwork and animal husbandry requirements were met. In fact, he was so good at it that the store is now licensed for up to 7,000 fish and has around 130 other livestock on sale – everything from exotic reptiles to rabbits and small cuddlies, and birds from budgies to zebra finches. It also has a five-star licence rating, meaning it is inspected only every three years.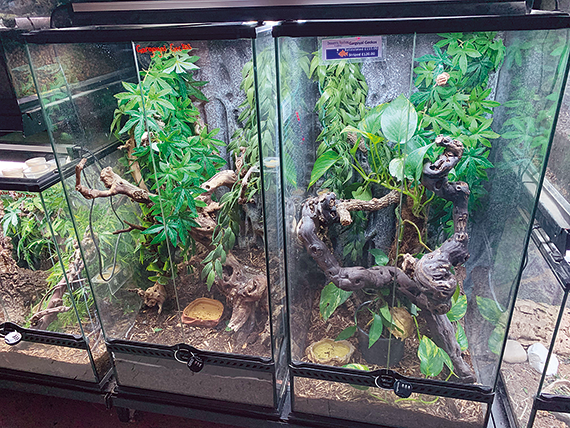 The exotics room is a favourite for reptiles expert and shop manager Melissa
"When I took over we wanted to move things on a bit but also to stick to what we were known for. So we did more social media – Facebook and Instagram – and we were careful to find out from people what animals they were actually interested in, rather than assuming that we knew."
He also performed the masterstroke of taking on Melissa Farrugia, who has been the manager of the pet shop side of the store for six years now. Melissa is an animal and particularly an exotics fanatic, with impressive knowledge, all the relevant diplomas and quite simply a love for the job: "And you'll notice that Melissa also has an unpronounceable surname – it's a prerequisite for working here," Peter joked.

Everything a pet or exotics owner might want is available from one of the specialist rooms
Now the shop has a clientele that comes from miles around – sometimes hundreds of miles. Many come for the specialist koi carp displays and stock, and also for the extensive tropical fish room, which catches the visitor's eye as soon as they walk in.
"Our fish room is one of the only ones I know of that is still in darkness," Peter explained. "That's because, when I used to buy fish when I was younger, that was how everyone did it. Now they are all in full lighting but I still think the displays are so much more eye-catching when the fish tanks are lit through the dark – the fish are the first thing you see."
LOCKDOWN STRIKES
The shop has always been busy but the summer of 2020 has – as for many pet retailers – been unlike any other.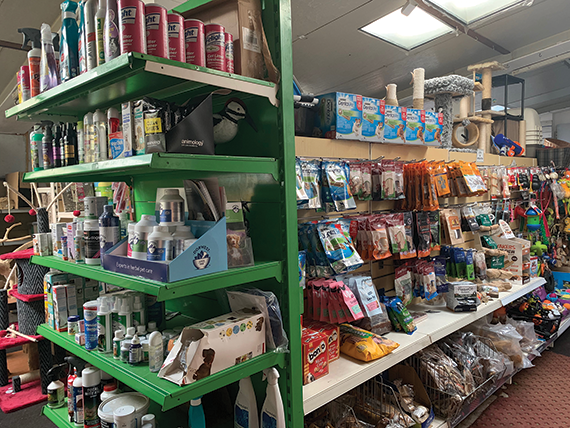 When the covid lockdown struck Peter furloughed the staff on the advice of his accountant but, as some restrictions were lifted and it became obvious the store could operate again, he spoke to Melissa to discuss the way forward.
"We decided that we could manage by ourselves to begin with and, my gosh, what a crazy few months it turned out to be.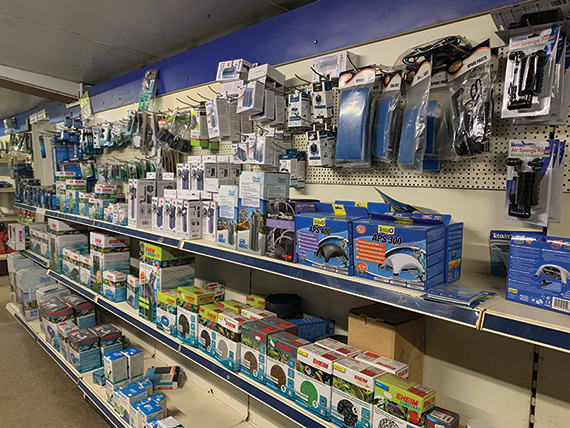 "On the first day we opened there were people queuing out of the door to get in. We had them all socially distanced with the two-metre markers and were limiting the numbers in the shop and in all of the different 'rooms' – reptile, fish etc. It was crazy – but lovely too."
Melissa and Peter managed the store on their own on a five-day-a-week basis instead of seven, for a couple of months, before being in a position to bring back the other staff. They are now back up to strength again but what has changed is that they have been 'rinsed' of stock with pets and aquatics becoming so popular during lockdown.
"People say it's crazy in the pet industry now but, actually, I think it's more like it used to be when I first started, " said Peter. "We were busy all the time. Now it's back to those days with so much more interest in animals and the joys they can bring. Lockdown has reminded us all about what's important and pets are one of those things."
The store is bringing stock back in all the time and relies largely on more local breeders with whom it has a strong relationship. Peter is looking to the horizon, however, when it comes to Brexit and he fears there may be some issues with new regulations coming into force.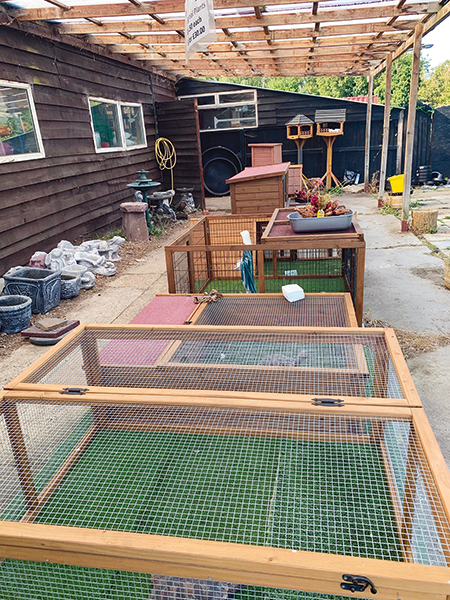 "I don't do a lot of EU stuff anyway, but it could trip us up with a few of the reptiles and it could affect one or two of the people I use there. I'm keeping an eye on it – but I expect it will just mean higher charges for everybody in the end!"
As for the future, the Ornamental Fish Farm has taken on a couple of apprentices as Peter is keen to give other young people a chance. He is also going to continue concentrating on the core business of koi, tropical fish and small livestock with the aim of maintaining the Farm's strong reputation.
"Both Melissa and I have a real passion for animals. When we were here during lockdown and it was just us, with thousands of animals, we thought: 'who could have a better life than this?' and now it's something I think about every day."