Sharon and Kevin West have been running a pet shop in Skegness since 2006. So what's it like running a business in a seaside town?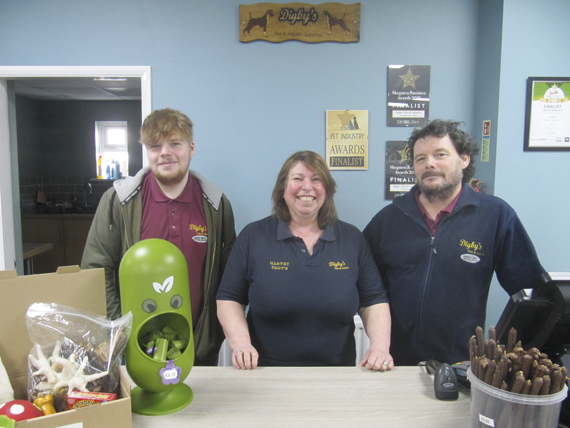 Sharon and Kevin West with their son, Harvey
At Digby's Pet and Aquatic Supplies, raw pet food sales are going through the roof – in the 12 months to January this year, raw grew 200%. "And that's just from the freezers we have, and we keep running out," said co-owner Sharon West.
As a result of this huge demand, Sharon and her husband Kevin have invested in a 3m x 3m walk-in freezer to support the seven existing freezers they have, with brands including Natures Menu, Nutriment and True Instinct. "Not many places in Skegness sell raw pet food," she said, "so people do travel to us, and with the new freezer, we will be able to sell in bulk by boxes. It's been a huge investment."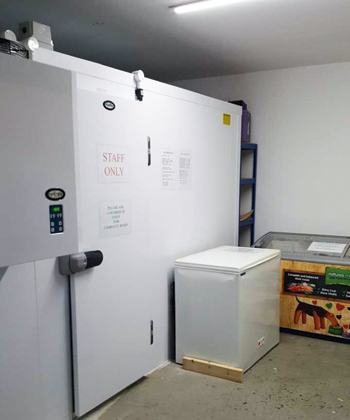 New walk-in freezer was a large investment
Needless to say, the Wests have a keen interest in nutrition and are happy to talk to customers about natural food, though recognising that some are perfectly happy with the brands they may have been buying for years. "We try and do as natural as possible across the shop," she said, "but not everyone wants to go this route."
Biggest sellers are their own-label ranges – Harvey Troy's, Naturals and the latest launch Adalwolf, which they rolled out last July. The ranges are supported with strong branding instore, and Adalwolf even has its own website, created by Sharon.
The Wests have two boxers they take to the shop with them, Halo and Hugo, and both are testimony to a good diet as they are fed raw and Adalwolf. "Our ethos is if we can have our own line we will, so people come to us," she said. "You have to do this now to gain customer loyalty – it helps us survive. We always ask if they want help, but we never push them on to our food, we explain the differences between the foods and let them decide."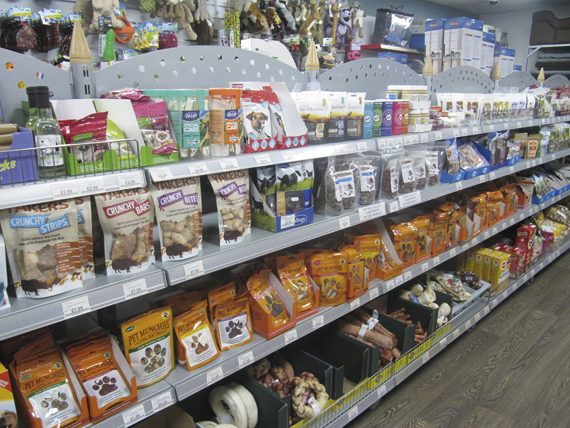 Treats are fast movers instore
With three ranges, they can offer a product for every pocket, from budget all the way to the super-premium 80/20 Adalwolf, which also has a selection of functional treats. Response to Adalwolf has been really good, and they are going to introduce two more recipes soon. "There is something for every market. And we have changed some of our packaging over to compostable bags, which has pleased a number of our customers."
Everyone has to be more eco-friendly, she said, and they are pleased that Naturediet has brought out Tetra Pak packaging, which has had favourable reaction from their customers. "One of ours, a vegetarian, was delighted as she said she now does not have to touch the food," she said. "And it sits so nicely on the shelf. It just looks so good."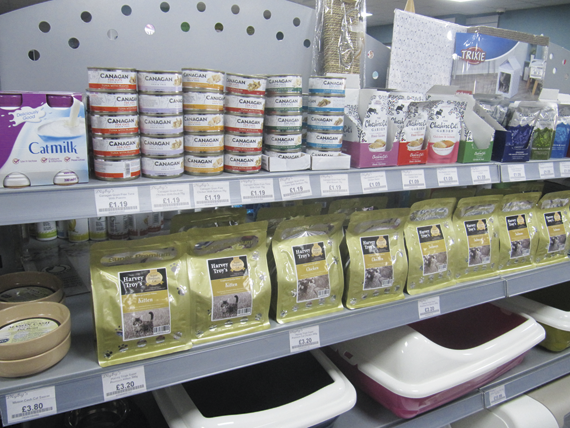 As far as possible, the message is 'go natural'
Good advice
Kevin feels 'prescription diets' are deceptive as they do not contain medicines, yet many customers think they do, especially as they are recommended by vets. "We get people come in here for Royal Canin prescription diets," he said. "Obviously if a pet is under a vet's care for something like kidney conditions, that's different, but if it's things like an itchy skin, this is usually down to diet."
Both therefore like Nutriment's latest launch, Nutriment Support, which won a New Product Award at PATS Sandown. This range comprises five raw food products – Light, Low Purine & Phosphorus, Liver, Kidney and Recovery – and are designed for dogs with more specific needs and support requirements.
In terms of trends, apart from the massive growth in raw and demand for natural, sales of big bags of well-known foods are decreasing, but big bags of their own-label food remain strong.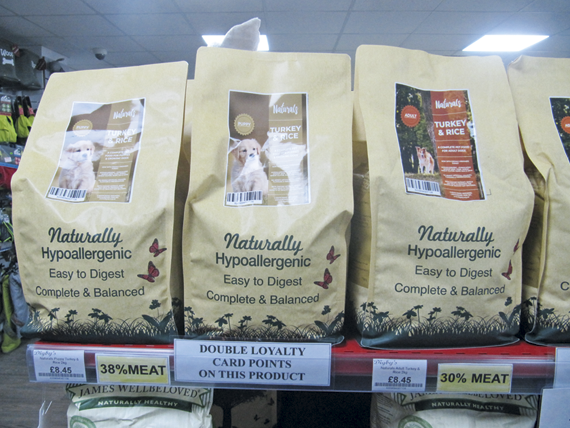 Own brand food is promoted
Cat, as with many retailers, remains hard work, and although they might reduce some lines, they will never get rid of it completely. The same approach applies to other slower-selling categories such as small animals and birds. Small animal food and products in particular have been hit by discount chains such as PetHut and B&M. "However, you need to offer options, which is why we'll continue to carry these, and there will always be some people who want a bit of everything," she said.
One big change has been the discontinuation of livestock sales apart from fish. "We stopped live animals about two to three years ago. We were selling small animals like rabbits and guinea pigs at the correct weaning age, but people wanted younger pets and around here, they were buying from hobby breeders at five weeks," Sharon said.
Third time lucky
Sharon started out with a pet shop in Bedfordshire, but eventually sold that and moved north to Skegness. In 2006, the Wests bought an old Co-op store and Skegness Pet Centre was born. Then in 2007, they moved to an industrial estate and ran both stores for a while before deciding to focus on the out-of-town location. They renamed the business Digby's in 2009, and about a year-and-a-half ago, bought the current premises, just a stone's throw away. This unit used to home a children's nursery, and Kevin took on the mammoth task of refitting the unit so it was fit for purpose, which included pulling out all the kiddie loos, re-laying the floors and stripping out the interior – all in all, five months of hard graft.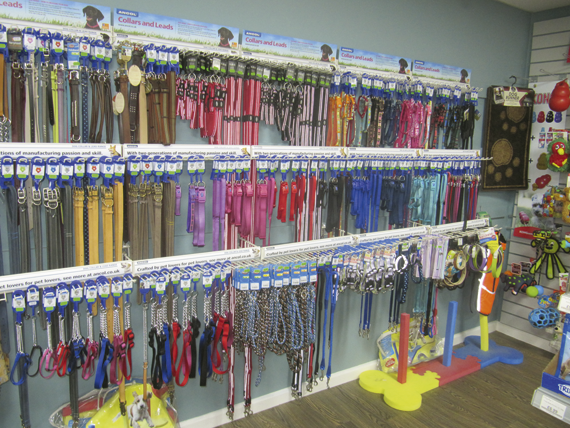 Leads and collars
Three moves is enough, they say, and now that they own the property outright, have no plans to move again. Besides, this shop feels absolutely right – being warm is the biggest change, they said. In the previous unit, there was no heating and they'd be wearing hat and scarf all day. "This is more the shop I have always wanted," said Sharon. "It's a whole lot nicer and I am so happy with the layout."
It may be on an industrial estate, but just opposite is a large residential area, and being a seaside location with caravan parks, they service a large pool of static caravan customers who come to them 10 months of the year.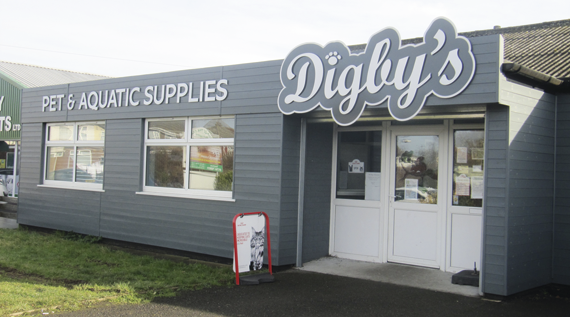 They did have concerns when Pets at Home announced in 2018 that it was opening a unit. But the chain then shocked the community when in May 2018, with a month to go, it announced that it would not proceed – despite having hired and trained staff. "It was a relief when they pulled," said Kevin. "A number of our reps were saying 'Don't worry, you'll be all right', but there is so much competition around here with budget shops and discounters."
For years, Digby's has supported the Skegness Carnival by organising and sponsoring the dog show. It's good fun, they say, and although they'd love to attend more local shows, especially to promote their Adalwolf brand, until they get more staff, this remains in the realm of dreams.
They offer a number of additional services including delivery, nail clipping, baths for dogs and grooming, which Sharon does. Sharon handles the social media side of things – mostly Facebook – and the websites. It's all about time, she said –  there are just so many hours in day.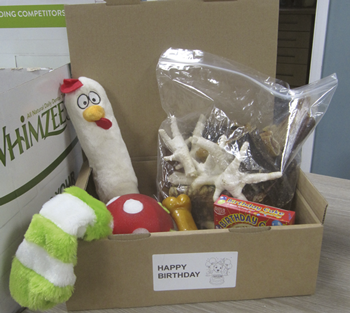 Gift box is a new service
She's recently introduced a gift box service, where customers can buy a box of treats and toys as a present for their pet. "You see it everywhere online, on Facebook, and most are made by people in their spare bedrooms, yet we have a shop filled with products, so I thought, why don't we just do it?" she said.
They also have an online site and have customers all over the country – many of them being the static caravan owners when they are in other parts of the country when the Skegness sites are closed. And growing in popularity is their small animals and bird boarding facility – over the last couple of years, they've noticed more parrots are coming in.
Keeping an eye on things
One of the best investments they've made is in their EPoS system eight years ago from Premier EPOS. You have to take a deep breath at the initial outlay, said Kevin, but after that, it's win-win. He said: "Then you see what you have got and your costs, and you can do stock checks and see what is moving well. We also tie in our loyalty card, and it just helps us with day-to-day running of the shop."
And that includes customers who might come in and ask for their dog's 'usual' food – but no idea of what that 'usual' food is. With more than 2,300 people on their database, having an EPoS system means they can easily check previous purchases. They've even had customers come in with a kibble from a sample of food their breeder has given them and asked the Wests to identify the food.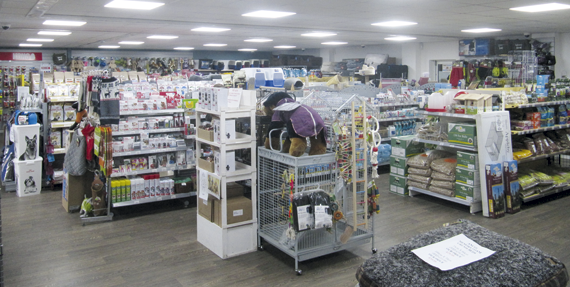 Shop occupies about 5,000sq ft
Now that the new freezer is installed, they are looking forward to a bit of 'downtime' as everything has been 'a bit full on' these past few months as they were so focused on getting this shop right.
In terms of challenges, their electricity bills have gone up, card payments are almost double, and business rates are 'horrendous', they said. "Thank goodness we own this building so we don't have a mortgage," said Kevin.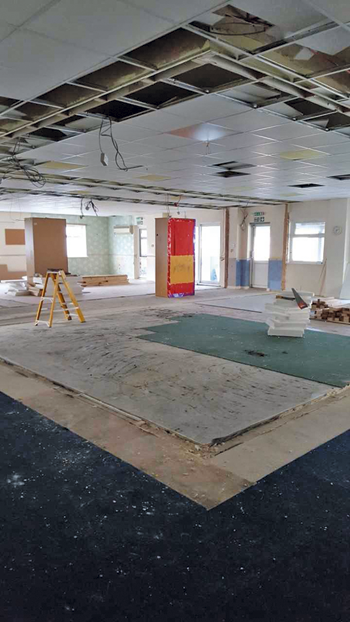 Kevin took on the massive task of re-fitting the shop himself
The couple are thrilled to have been finalists last year for the Pet Industry Federation Awards, Skegness Business Awards and the Dog Friendly Awards. "The Dog Friendly Awards was lovely as we managed to spend a couple of days in London, which was nice because we do not get away much," said Sharon.
Having been a firm fixture of Skegness for so many years has enabled them to form firm links with the community.
"It's nice because it feels like people appreciate us," said Kevin. "Just the other day, this woman came up to me and said 'Thank you' – I had helped her dad with a fish tank. It's nice being appreciated."
"We must be doing something right," added his wife. "We opened in 2006, and now we own our shop. But we are not selfish – if necessary, we do not take a wage, we do not take holidays."
The basis of their success also rests on the fundamentals of good customer service, offering a unique product range with a price point for every budget.
"I just love coming through the doors and knowing it's ours," said Kevin.