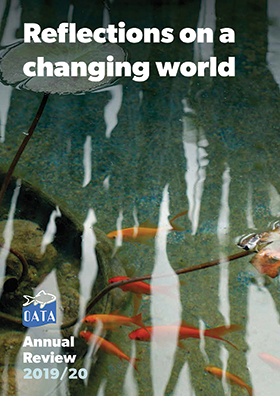 K
Ornamental Aquatic Trade Association chief executive Dominic Whitmee has applauded 'the efforts of those essential retailers and support businesses who no doubt faced the biggest challenge in their working life when lockdown was announced in March.
"Overnight the UK changed and those shops and businesses had no time to prepare. Yet they did it," he writes in OATA's newly-published annual review.
"We also had our part to play in this by banding with our fellow trade associations to make sure the businesses who keep our pets fed and in good health were considered part of essential retail, and luckily the Government did listen."
Dominic said the lockdown had even had some benefits for the industry, with people having extra time to pursue their hobbies.
"Another really pleasing outcome has been the number of ponds introduced back into gardens, which should provide a boon for both wildlife and their owners in years to come."
He conceded that the world had 'definitely changed' although just how much was still unclear as the 2020 annual review went to press.
"But our role as a trade association stays the same," he continued. "We are here to advocate and highlight the issues affecting our industry and work towards mitigating and improving them."
The review examines 'the changing world we all face in the future, from the effect of covid-19 on the high street and retail, to our relationship with Europe and the wider issues in society of a growing awareness of our relationship with wildlife'.
He concluded: "It has the feeling of a turning point but towards what is still unclear."
CHALLENGING TIMES
OATA chairman Kevin Rose, of Lynchford Aquatics, in Farnborough, Hampshire, wrote that, as an
independent retailer, the past few months had been 'incredibly challenging on many fronts'.
"From initial concerns as to the future of my business and the industry at large it has turned out to be not only an incredibly busy time in terms of increased trade but also the extra burden upon us with the need to manage customers in a safe and practical way."
The crisis had also shown the importance of trade associations like OATA, which were there in 'difficult times' representing businesses while they got on with 'their day job'.
"The very fact aquatic businesses could stay operating was down to the trade associations pointing out to Government that a wider range of shops could be considered essential than they first thought.
"And the OATA team – who have all been working separately from home – have not stopped there.
"They have been interpreting and clarifying advice from Government to help our industry carry on. And keeping an eye on other issues that will affect how we do business, from calls to ban wildlife trade to plans to examine the trade in marine ornamental fish by CITES."
Also rapidly approaching was the 'final transition' away from Europe," Kevin wrote – and this looked set to mean a lot of bureaucratic change for imports and exports.
"It is definitely at times like this that trade associations come into their own."
JUMP ON BOARD
OATA believes it is an organisation that 'punches above its weight'. With a staff of just four, it could not achieve what it does without the support of its voluntary board of directors from the industry.
The board, which meets four times a year, has a 'New Blood' programme, offering others the chance to take a seat at the table.
If you would be interested, contact office manager Ray Valovec on 01373 301353.
DID YOU KNOW?
The UK imports ornamental fish worth £162m pa, that's 1,244 metric tonnes of live fish, with Singapore being the biggest supplier.
In fact, 70% of the live fish imported for the UK industry comes from just five countries: Singapore, Israel, Indonesia, Sri Lanka and The Netherlands.
AGM
This year's annual general meeting on October 14 will be taking place via zoom.