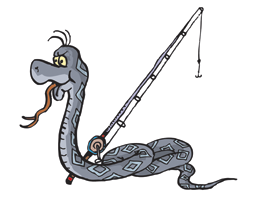 A 27-foot python has been filmed wrestling with a group of fishermen in Indonesia.
Tan Galuang was out catching eels with five other men when he stepped on what he thought was a log – but the 'log' moved and he then realised it was actually a large python, the Mirror Online reports.
In the video, the python then wraps itself around one of the men's ankles.
Tan said: "There were six men all trying to fight it. The snake was wrapped around my friend's leg and we quickly released it. We were only looking for fish, but the snake is like the grand prize. My religion forbids me from eating the snake, so I could not make a meal from it."
The snake ended up in a large cage in a village in the Padang Pariaman region where it was kept for several days. Wildlife officials then drove it several miles away to be released away from settlements.