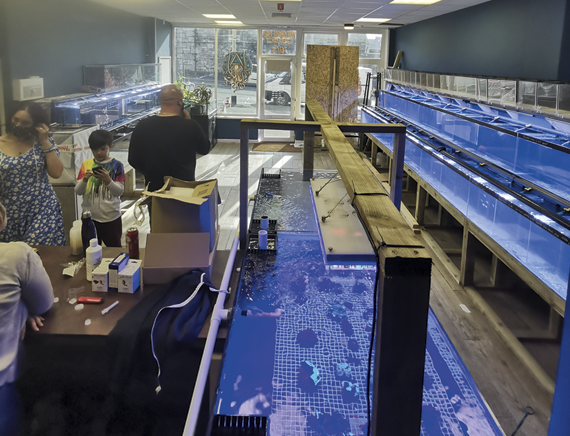 The owners of a new aquatics shop are aiming to recreate a friendly 'tattoo parlour' vibe, alongside a reputation for cool and unusual livestock.
Carl Payne and Sammy White opened The Urban Aquarist store in Plymouth a month ago after a frustrating time trying out different jobs during the coronavirus pandemic.
Carl has over 20 years experience in the aquatics industry, including working for the Tropical Marine Centre (TMC) wholesaler. He is now a specialist with a particular penchant for large and predatory fish.
When the aquatics shop where he had worked for many years closed he originally decided to try new lines of work and even spent some time as a builder.
"I was up a chimney in December with the wind howling around me and freezing cold and I thought to myself 'nah, it's time to get back to fish'," he said.
Carl and Sammy, who are engaged to be married, also moved to Wales for a while to take up new employment but the move did not work out.
"Sammy was in a job she hated and we didn't particularly like where we lived. Plus it was the covid pandemic and we didn't know anyone.
"We were out walking the dogs one day and just decided it was time to go home to Plymouth," said Carl.
The couple built up a strong business plan and applied for a Government-backed business start up loan – which they received. The money allowed them to set up, although even now they face hurdles as prices for raw materials have soared.
"We're about 75% of the way there," said Carl. "It wasn't the opening that we wanted and we still have a couple of large tanks to come but it's great to be home at last."
The shop is aiming for a funky 'tattoo-parlour' feel, so much so that its octopus-themed logo is taken from a tattoo on Carl's hand.
The pair also hope to attract visitors to view the unusual stock, including an angry-looking Broomtail Maori called Jessica. "We don't really know if it's a girl though," Carl confessed, "that's just the name 'she' came with!"