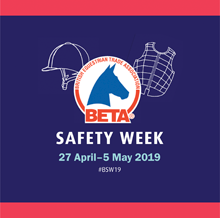 BETA Safety Week is back for 2019 as the trade association and its members – retailers and manufacturers – join forces to promote the importance of correctly fitted, fastened and up-to-standard safety gear and equipment.
All BETA retail members have been invited to take part in this awareness-raising campaign, which will run from April 27-May 5. Those who have agreed to take part will receive an extensive promotion kit, including information packs, window stickers, posters and social media graphics to help highlight the week to customers.
Retailers can also take part in a BETA Safety Week in-store display competition to win a luxury gift hamper and manufacturers are invited to supply items of promotional merchandise as prizes for a programme of competitions on Facebook and Instagram.
This internationally-recognised initiative is supported by some of the sport's top riders and leading equestrian organisations, such as British Eventing, the British Horse Society and the Pony Club. To ensure that BETA Safety Week enjoys maximum impact, it will appear in leading consumer and trade titles, as well as being the subject of an extensive social media campaign.
"We are thrilled to welcome BETA Safety Week back for 2019," said BETA executive director Claire Williams. "When we launched the campaign last year, we had no idea just how successful it would become and the sheer amount of support it would receive. We had 184 retailers – UK BETA retail members and those from mainland Europe and the United States making it truly global. There was also support from BETA manufacturing members – the most famous names in the business – to help drive home our key messages about rider safety.
"In 2019, we plan to build on our inaugural year, collaborating with the trade to reach out and engage with an even wider audience of equestrians, and drive higher volumes of footfall to our retailers' stores."