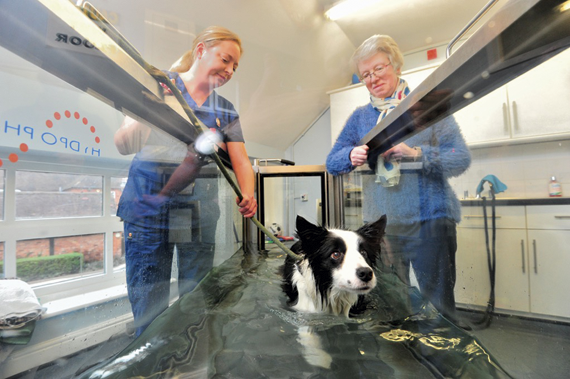 A former Crufts champion has a new spring in her step after life-changing hydrotherapy rehabilitation for a serious leg injury.
Twinkle-toed Tiegen used to love nothing more than leaping over the hurdles on a dog agility course, but the award-winning Border collie's show career was cut short after she suffered a serious injury to her cruciate ligament during training.
Tiegen's owner, Karen Milton, said: "The damage to her cruciate was so bad that she struggled to put her leg down properly."
Karen added that following surgery, she and her husband, Stuart, learned that hydrotherapy was a good way of slowly building up strength in the muscle, and Tiegen was taken to Severn Veterinary Centre.
The dog was able to regain strength in her leg by using the underwater treadmill at the practice at Berkeley House, Worcester, regularly.
Severn Vets hydrotherapist Natasha Cooper said: "The underwater treadmill allows a dog or cat to exercise while being supported by the buoyancy of the water. This actively rehabilitates walking and trotting movements within patients.
"She looks great for her age and is now able to walk and run again."