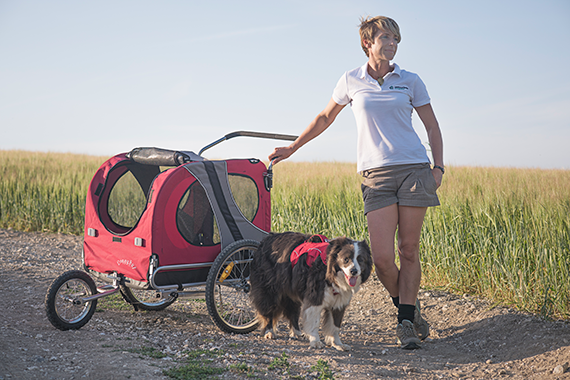 Millions of UK dog owners are facing the heartbreak of having to say goodbye to beloved pets years earlier than necessary due to the failure to spot and act on early signs of the 'silent killer' disease arthritis.
Now, award-winning vet Hannah Capon is leading a campaign to help dog owners spot the telltale signs and learn how to manage the condition before it goes too far.
Left untreated, canine arthritis can result in unnecessary suffering and premature euthanasia as dogs lose their quality of life, Hannah says.
But just a few simple steps could add years to their lives so she has launched this year's Big Walk (https://caninearthritis.co.uk/thebigwalk2021) through the organisation she founded, Canine Arthritis Management.
And she is inviting dog owners to join in the online event, which gets under way on September 1, to help raise funds and spread awareness about her campaign.
AWARDS
Hannah has been a vet for 19 years and is based in Essex. She won the 2020 Royal College of Veterinary Surgeons Impact Award, the 2019 Ceva Vet of the Year award and the Vet Personality of the Year 2019. She was also a finalist in the 2019 Petplan Vet of the Year.
She has devoted her career to helping people understand canine arthritis and runs Canine Arthritis Management (CAM), an online education and support service for owners and professionals.
The first Big Walk was held in 2017, when she and her collie, Holly, aged 15, trekked 100 miles along the South Downs Way in Sussex. Holly, who had severe arthritis, travelled part of the way in a specially adapted cart when she was too tired to walk.
Holly died in December, 2019, but Hannah's new collie, Luna, aged three, is helping to continue her legacy.
JOURNEY
In 2018 the Big Walk was cancelled because Holly was not well enough. It relaunched in 2019 and proved a big success, with dozens of dog owners signing up, raising £7,800. Walks took place as far afield as France and New Zealand. The walk was cancelled again in 2020 because of covid, but this year it's back.
It runs for a month with a 30-day series of emails, taking people on an imaginary journey through a fictional land, where everything is looked at from the perspective of an arthritic dog. Included in the email will be soundbites from experts and a chance to win prizes as well as a daily activity. There is a members-only Facebook group for people to interact, share their adventures and interact with experts.
Participants also get CAM classroom education, essential tips, advice from experts, product reviews and discount coupons. They can also sign up to be a Park Explorer or Forest Adventurer and bag a T-shirt and bandana.
All funds raised will help develop a new CAM website that provides more advice, support and guidance to owners of arthritic dogs.
To find out more about CAM Big Walk 2021, visit https://caninearthritis.co.uk/thebigwalk2021/