VetPartners is hoping to raise thousands of pounds for a charity that brings peace of mind and practical help to the elderly and terminally ill.
Staff across VetPartners' UK practices and central support team voted for The Cinnamon Trust to be its chosen charity for 2022.
The Cinnamon Trust seeks to relieve the anxieties, problems, and sometimes injustices, faced by elderly and terminally ill people and their pets, whether providing practical help like walking a dog for a housebound owner, organising a foster home for pets whose owners face a spell in hospital or providing long-term care for pets whose owners have died.
The trust organises a national network of more than 18,000 volunteers to help when any aspect of day-to-day care poses a problem. It helps more than 140,000 people each year with their pets.
The choice of charity has delighted Minster Veterinary Practice nurse Victoria Beasley, who adopted Siamese-cross cat Sami from The Cinnamon Trust after his owner sadly developed dementia and had to go into a home.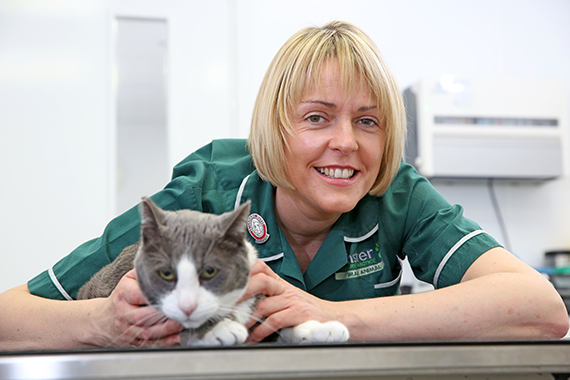 After being adopted in October, Sami moved up from Somerset and is happily settled with Victoria and partner Jamie at their home in North Yorkshire, where he sleeps on their pillow and taps them on the head when he wants breakfast.
Victoria said: "I enquired with the trust, sent videos of our home to one of the trust's foster coordinators and told her all about us and the life we could offer Sami. The trust really does try to ensure the best possible fit and I have a lot of respect for that. He has settled into our home quickly and has us wrapped around his paw."
Whether baking cupcakes to sell, running, walking or cycling 5k or climbing mountains and organising fundraising events, VetPartners team members have thrown themselves into fundraising for worthy causes, raising nearly £20,000 for Pets As Therapy, their chosen charity of 2019 and 2020.
Hannah James, who coordinates VetPartners' charity efforts, believes The Cinnamon Trust will inspire some great fundraising ideas.
Hannah said: "Our colleagues are so kind, caring and compassionate and really want to support great causes. Cinnamon Trust is a charity we've already taken to our hearts and want to help. Organising fundraising events is a great way for us to all enjoy fun activities together, challenge each other and raise money for a fantastic charity."