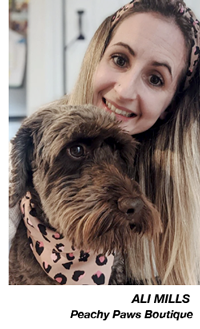 The owner of a pet accessories company is set to open her first retail store as part of ambitious plans to grow the business.
Ali Mills will be opening the doors of Peachy Paws Boutique in a trendy part of Banbury in Oxfordshire tomorrow (Saturday, November 6).
Peachy Paws Boutique will showcase Ali's unique range of pet accessories, which includes dog harnesses, collars, leads and bandanas.
Ali set up her business after going on maternity leave 18 months ago when she made her first dog bandana.
"I adore scouring fabric shops and the internet for super fabrics that I can make into gorgeous accessories," she said. "I combined my love for dogs and passion for fabrics to create Peachy Paws Boutique."
Starting as an online business, Peachy Paws Boutique has grown rapidly, and Ali is now ready to move the business even further forwards.
"I'm constantly looking for ways to grow the business and felt like this was a great next step," she admitted. "The new shop will be located in the dog-friendly Lock29, which is a space attached to the Castle Quay shopping centre. It's full of street food and independent boutiques/businesses. I was very drawn to the vibe of the place, and felt it fitted my customer base perfectly."
Ali will be helped in store by three new members of staff, including her sister Charlotte, and as well as selling her range of harnesses, collars, leads and bandanas, she'll be stocking poo bag holders, dog walking bags, a grooming range, toys and treats.
Visitors can help celebrate the opening of the store on Saturday with a glass of prosecco while dogs will be treated to a pet-friendly cake and have their portrait captured by a pet artist.