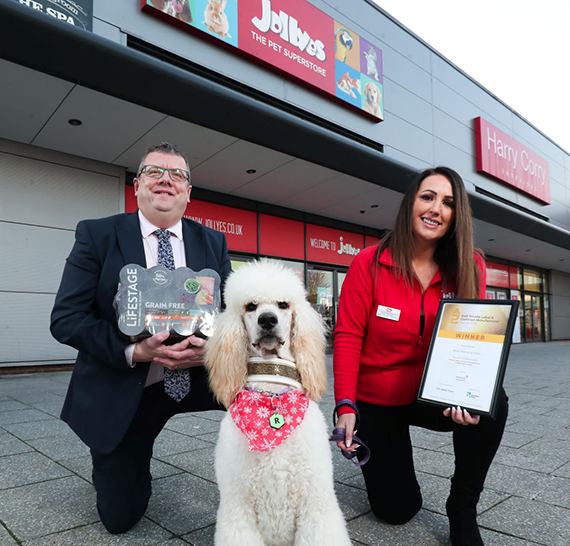 Pet retailer of the year Jollyes is investing £325,000 in Northern Ireland to open new stores and support key suppliers.
Jollyes, which already has 12 stores in Ulster making it the country's leading pet retailer, will begin the new investment on December 11 with the opening of a new 6,700 sq ft store at Longwood retail
park, Newtownabbey, to replace its shop at Glengormley.
In a much larger location, the new store will create five new jobs and bring a Pamper & Groom Spa to the town for the first time, a service only currently available at its stores at Belfast and Newry.
In February Jollyes will open for the first time in Cookstown, having secured a 5,000 sq ft unit at Sweep Road retail park. It will create 10 new roles.
Jollyes has a strong Irish supply base for all its 70 stores across the UK and is also planning to step up investment with its Irish partners to help support its current growth.
It will be working closely with family-owned Mackle Petfoods based in County Armagh on new and extended ranges following the success of Jollyes' new Lifestage dog food range which has been a hit with customers since its launch earlier this year.. All of Mackle meat is sourced from local suppliers where possible and is fully traceable to the farm of origin.
To cater for the increased demand for frozen pet food, Jollyes will also be building on the relationship with Belfast-based Frozzys to widen availability of its award-winning frozen lickable yoghurt.. Winners of a coveted gold at the 2021 PetQuip Awards, Frozzys Frozen Yogurt is a natural nutritious treat rich in vitamins and minerals, low in calories and available in perfectly portioned tubs. It is designed to take time to eat, to prolong enjoyment and keep dogs mentally stimulated, and its frozen nature helps to keep dogs cool.
Jollyes is introducing new and high-quality design-led dog beds from Coolock Dublin-based manufacturer Beddies.. Beddies is another family business owned by the Stevenson family, who also own Pownall & Hampson Ltd, a manufacturing company synonymous with quality as the leading bedding manufacturer in Ireland.. Beddies is also expanding and creating jobs to meet increasing demand from customers.
Laura Hadden, regional manager for Jollyes in Northern Ireland and Scotland, said: "People here in Northern Ireland love their pets and over the years we've built up a solid bond with our customers here right across the country.
"We're looking forward to reaching out to more customers here with a new store at Cookstown and a new state-of-the-art store at Newtownabbey. Together, they'll give us the best offer we've ever had for pet owners in Northern Ireland."