Inspirational entrepreneurs from across the UK are officially kicking off this year's Small Business Saturday UK as the campaign gets under way with a one-hundred-day count-down.
Aiming to support, celebrate and send out a 'big thank you' to small businesses for the important role they play within communities, particularly throughout the pandemic, the 2021 Small Biz 100 is showcasing a diverse range of independent businesses from across the country.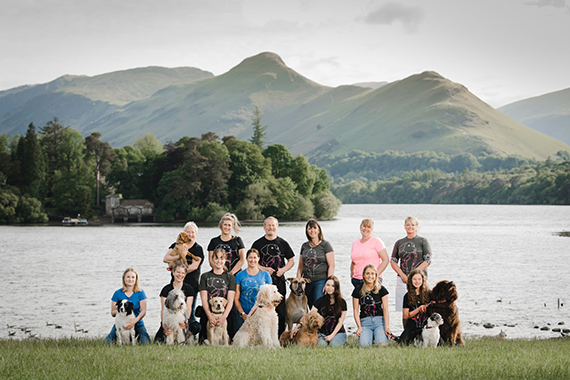 Podgey Paws Pet Shop
This year's line-up showcases a number of pet businesses including Podgey Paws Pet Shop, an independent pet accessories shop; For Dogs' Sake Treats, which produces handmade dog treats and gifts; Creature Comforts, an independent award-winning pet shop; and Paw Runner, which offers monthly exercise challenges for dogs and their owners.
Now in its ninth year in the UK, Small Business Saturday will return on December 4, following its record-breaking success last year that saw an estimated £1.1bn spent with small businesses across the UK on the day.
CRISIS
This year, the Small Biz 100 features a range of environmentally conscious small firms, spotlighting their role in tackling the climate crisis ahead of the UN Climate Summit COP26 in Glasgow this November.
Michelle Ovens CBE, director of Small Business Saturday UK, said: "Throughout the crisis we have been reminded of the special role that small firms play in local communities. The stories of this year's Small Biz 100 really bring this to life. As the UK recovers from the pandemic, small businesses still face considerable challenges to get back on their feet and it's important we continue to support them. We are excited to be kicking off this year's campaign to show our thanks to small businesses, and encouraging everyone to get behind us."
Dan Edelman, from American Express, said: "This year's Small Biz 100 goes to show just how creative and vibrant our small business community is in the UK.
CELEBRATE
"More than ever, it feels important to celebrate the achievements of all the independent businesses that go above and beyond for their customers every day. We're honoured to play our part supporting them through our Shop Small campaign and as principal supporter of Small Business Saturday.""
On Small Business Saturday, customers across the UK go out and support all types of small businesses, both online and in brick-and-mortar stores. Many small businesses take an active role in promoting the day by hosting events and offering promotions.
Small Business Saturday attracts huge attention on the day itself, with an impact that lasts all year. Last year the campaign trended at number one in the UK on Twitter, with the Prime Minister, the leader of the opposition and the Mayor of London among those publicly supporting the campaign. Over 90% of local councils also supported the campaign.
> To get involved in Small Business Saturday 2021 visit https://smallbusinesssaturdayuk.com