In light of current guidance on reducing the transmission of coronavirus by limiting non-essential contact, vets are temporarily permitted to prescribe remotely where no other option is available.
Under normal circumstances the RCVS Code of Professional Conduct for Veterinary Surgeons does not allow them to prescribe vet-meds without a physical examination of the animal(s) – but this restriction has been lifted 'under the current exceptional circumstances'.
This will continue to be reviewed on an ongoing basis and, in any event, no later than the end of June.
Dr Niall Connell, RCVS president, said: "In these unprecedented times we recognise that undertaking a physical examination of an animal may no longer be safe for people or practicable under the restrictions on movement and contact that the UK Government has recommended and is likely to enforce.
"Vets and vet nurses will always have animal health and welfare as their key professional priority, but they must now prioritise their personal safety and that of their practice teams and clients, and do as much as they can to ensure the protection of public health. Personal and public safety overrides animal welfare."
EMERGENCY CARE
Veterinary practices are remaining open to focus on emergency care and urgent treatment for animals while reducing face-to-face contact between staff and clients as extensively as possible, following the Prime Minister's announcement of new restrictions to curb the spread of covid-19.
The British Veterinary Association, which represents more than 18,000 members in the UK, has advised that veterinary practices can be considered essential services under the new measures, as they deliver emergency care and work to maintain the food supply chain.
In the interests of safety, however, and to comply with government advice, practices should be delivering only emergency treatment and urgent care and should be cancelling routine and non-urgent appointments.
Vets are also insisting that animal owners comply with strict social distancing measures in order to keep clients and colleagues safe. For animal owners, this will include calling the practice ahead of time for advice and may mean waiting outside while an animal is seen and treated.
URGENT CARE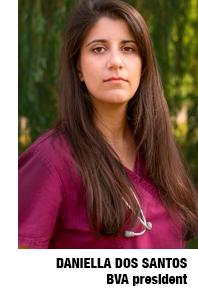 Daniella Dos Santos, BVA president, said: "It's incumbent on all of us do everything we can to curb the spread of covid-19 and follow the government's #StayHomeSaveLives instructions. For vets, that means limiting our provision to emergency and urgent care and working to maintain food production from farm to fork.
"Practices are following strict social distancing measures and asking owners to make sure they follow the same steps in the interests of everyone's safety. Please call your vet before attending a practice to get up to date advice on what measures they have in place to safely treat your pet in an emergency.
"We appreciate that some pet owners may be frustrated that routine appointments are being cancelled, but these are vital measures to curb non-essential travel and contact and keep everyone as safe as possible during this challenging period.
"I'd like to pay tribute to all my veterinary colleagues across the country who are working hard to maintain their vital services, both for companion animals and in making sure the UK has a steady supply of food produced to high standards of health, welfare and safety."