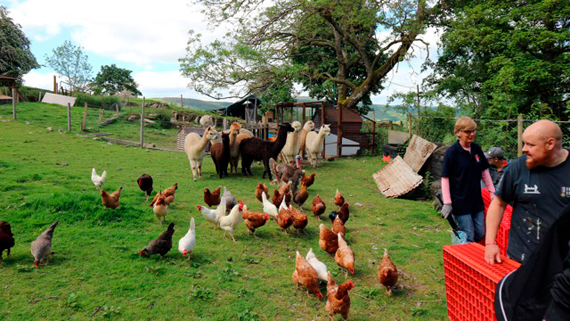 An injured veteran who scooped gold at the Invictus Games has rehomed 100 hens to provide therapy for fellow ex-servicemen.
AJ Pingram, who served as a marine engineer in the Royal Navy, had the hens delivered by the British Hen Welfare Trust, a national charity that rehomes more than 60,000 birds a year.
The hens had been living in cages for 18 months laying eggs to be sold in supermarkets or to used in processed foods, and would have gone for slaughter otherwise.
AJ's farm provides rehabilitation for fellow injured veterans through animal interaction and developing outdoor skills such as farming and tree surgery.
It is already home to other birds and animals including cats, alpacas, turkeys and ducks.
Jane Howorth, founder of the BHWT, said: "AJ has given these hens a new lease of life and in turn they can help change the lives of the injured veterans visiting the care farm."