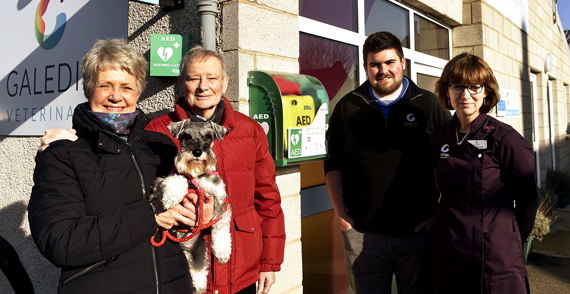 Three members of staff from a veterinary practice have been hailed heroes after helping to save the life of a pet owner.
Vet Robbie Norquay performed CPR on Hamish Ritchie, who suffered a heart attack outside Galedin Vets, in Kelso, in the Scottish borders, assisted by fellow vet Michael Kyle.
Receptionist Sheila Fleming rang the ambulance and consoled Hamish's wife, Jacky, until paramedics arrived. She also drove Jacky to Borders General Hospital, where her husband was taken. He has made a full recovery after surgery.
Now, as a token of appreciation, the couple, from Coldstream, have donated towards the cost of defibrillator, a device that gives a high-energy electric shock to the heart of someone who is in cardiac arrest, that will be kept outside of Galedin Vets' surgery in Kelso.
The team at Galedin Vets has just undergone training to use the defibrillator with Kelso Heartbeat, a charity that provides basic life support training.
Jacky had stopped the car outside the practice, where their schnauzer, Penny, is registered, to raise the alarm after her husband collapsed while she was driving.