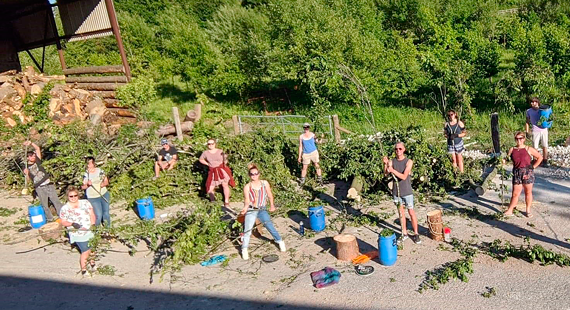 The zoo team filled 21 barrels full of stripped twigs and foliage known as 'browse'
Giraffes and other zoo species are to benefit from an act of vandalism after a mature tree illegally felled at a cemetery has been donated for food supplies.
Marwell Zoo in Hampshire said the unexpected gift would feed its hoof-stock animals at a time when it is appealing for help to cover basic costs, due to coronavirus restrictions affecting its income.
Zookeeper Zoe Newnham spotted a social media post about the crime and contacted the cemetery offering to put the magnificent Hornbeam tree to good use.
She said: "I saw the Facebook post the cemetery put out appealing for witnesses to the mindless act and highlighting the impact the loss of the tree would have on wildlife, as it was likely that birds were nesting or using it as a food source.
"I immediately thought how the tree could really help out our animals during these difficult times when the zoo is receiving no income from guests – and that there could be a positive ending to a sad situation. I contacted them and they were very happy for us to use as much of the tree as we could."
BENEFITS

The zoo team filled 21 barrels full of stripped twigs and foliage known as 'browse', which the zoo's ruminant species including giraffe, okapi, bongo, nyala, anoa, lesser kudu, dik dik, pygmy hippo, tapir and sitatunga naturally eat in the wild.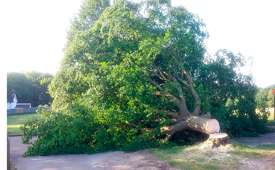 Zoe added: "Browse has a number of benefits for our animals. We have our own browse plantations at Marwell, which we use to feed the animals throughout the year, but the more we can provide, the better.
"We'd like to say a huge thank you. This tree will allow us to provide animals a natural diet throughout the winter when there are few fresh leaves around."
Southampton City Council councillor Steve Leggett said: "The illegal felling of the magnificent tree at our Hollybrook Cemetery has shocked not just us at the council but also the local community.
"We were delighted that Marwell Zoo contacted us after seeing our social media posts offering to put the tree to good use. This has given a positive end to what has been a sad event.  We hope the okapis and giraffes enjoy the special treat."
The zoo is currently closed to visitors due to the coronavirus pandemic, and is appealing for public support to help with costs.