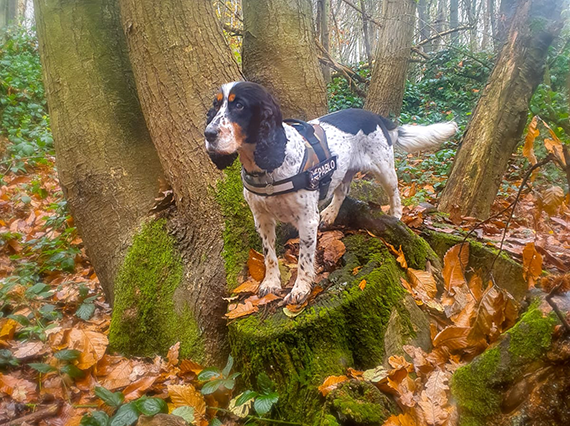 A hero police sniffer dog that recovered more than £250,000 worth of drugs, cash and weapons during his career has had life-saving surgery to remove a tumour from his abdomen.
Ten-year-old springer spaniel Pablo served Norfolk and Suffolk Constabularies' Joint Dog Section for eight years until August 2019, when he retired and was adopted by Carly Laflin and her husband, both serving police officers.
Carly, who works in CID, said: "My husband's role within the police meant that he often worked closely with the dog unit and had met Pablo on many occasions. I always remember him coming home one night to tell me about Pablo being sent in to search a car that was suspected of being involved in county lines drugs and coming out with the suspects' Big Mac they'd just picked up from the McDonald's drive-through! I think it was true love from that point forward.
CUDDLES
"When Pablo retired, he made a flippant comment about bringing him home and, before we knew it, he was settling down in our living room. He never left – and we've never looked back. He really enjoys retired life and loves having cuddles on the sofa, playing with his tennis ball and going on long walks."
During his career, RPD Pablo served in both Norfolk and Suffolk as a cash, drugs and weapons recovery dog. He helped to recover more than £250,000 worth of items and also played a part in the arrest of hundreds of criminals.
Carly said Pablo had always been fit and healthy – although he is blind in one eye from an accident when he was younger – but just before Christmas, he was struggling to go to the toilet so they took him to the vet and they found a 4cm mass in his abdomen.
"We spent around £1,500 on examinations and investigations so we knew what it was and eventually he was referred to a specialist. When they said he needed surgery and it would cost around £4,000 we walked away in tears, not knowing what we'd do."
CHARITY
The couple, both based at Bury St Edmunds Police Station, in Suffolk, applied to The Thin Blue Paw Foundation for financial support. The charity – launched in August 2020 – offers grants to help owners with large vet bills and works to support serving and retired service dogs to ensure they have long, happy and healthy lives.
Carly said: "The Thin Blue Paw Foundation ultimately saved Pablo's life. You can't put a price on Pablo; not only is he our beloved pet, but he's also a hero and he's given so much to our communities. We had already decided that we would go ahead with the surgery but we were really concerned about how we would find that sort of money so the charity has really helped to fill that huge gap."
Pablo had his surgery last month and tests revealed the mass was a benign tumour and had thankfully not spread. He's now back at home and recovering well.