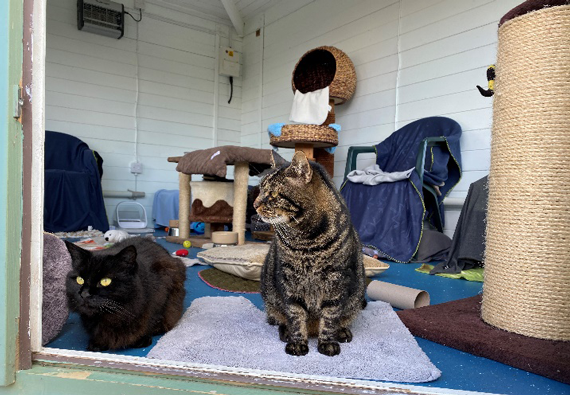 A UK smart pet product specialist is celebrating five years of partnership supporting an animal rehoming charity Wood Green.
Sure Petcare says it has helped transform the lives of thousands of pets at Wood Green since 2015 through the provision of award-winning technology, sponsorship, fitting a summerhouse and running an affiliate scheme.
The Cambridgeshire company's flagship products are microchip pet doors and feeders. By opening only for specified pets, they prevent 'intruders' entering pet owners' homes, as well as helping owners to control and monitor their pets' feeding habits. Wood Green ensures that all cats and dogs in its care are microchipped, meaning Sure Petcare's gifts help to keep pets safe and well fed until they are rehomed.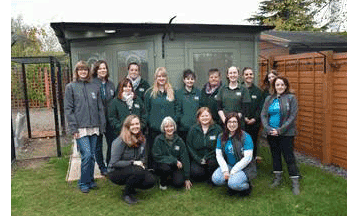 The summerhouse, named Hoshi's House, is a safe haven for Wood Green's 'high-end need' cats – those with behavioural or medical issues that benefit from the extra freedom. Featuring an enriching indoor space and an enclosed garden, hundreds of cats have stayed in Hoshi's House since Sure Petcare sponsored and fitted the facility in 2017
Wood Green's Stacey Hamilton, who has worked alongside Sure Petcare since the partnership began, said: "We couldn't be more grateful to everyone at Sure Petcare for their support over the years. At a time when Wood Green's resources are even more stretched, due to the financial impact of coronavirus, it's reassuring to know that our incredible partners continue to demonstrate their commitment to pets."
Sure Petcare also has an affiliate scheme that enables Wood Green supporters to receive a discount on its pet technology range. For every item sold, Sure Petcare matches the customer's discount with a donation to the charity.
Judith Bank, head of marketing at Sure, said: "For us, creating products in the pet sector means truly caring about companion animal welfare. As one of the leaders in pet technology, we're always willing to share our expertise in order to help organisations like Wood Green – and we are already in discussion about how to support the charity's plans to further improve its on-site pet care facilities."
Wood Green rehabilitates and rehomes thousands of cats, dogs and small animals every year from its 52-acre centre in Cambridgeshire, and satellite centre in Hertfordshire, as well as providing free advice and support to pet owners.