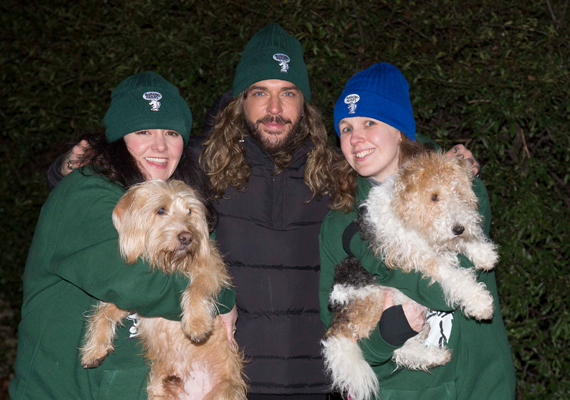 Celebrities such as TOWIE star Pete Wicks highlighted the plight of the homeless and their dogs
Dog-loving celebrities joined ethical dog food brand Barking Heads for a sleep-out in London to help raise awareness and understanding about the hardships faced by the many homeless men and women sleeping rough with their dogs.
Among them was TOWIE star Pete Wicks, who braved temperatures of minus one to 'sleep out' on the streets of central London on Friday, January 17. The event, Sleep the Streets, was organised by dog charity DOTS in collaboration with dog food brand Barking Heads.
DOTS is a volunteer-run, not-for-profit charity dedicated to the welfare of dogs belonging to the UK's homeless community. DOTS also help rough sleepers to find permanent accommodation – a challenge as many refuse housing when offered, simply because it is not dog-friendly.
Pete said: "My two dogs are my world. They bring such positivity into my life. But for people who are homeless, their dogs mean even more. The dogs provide companionship and love in a world where they are often invisible. That's why the work DOTS does to support these dogs and owners is so important – it keeps these partnerships together."
Barking Heads marketing director Julia Anderton said: "I'm not sure any of us were truly prepared for our night on the street, yet sleeping rough is something 320,000 people in the UK face every day. As a group of genuine dog lovers, we jumped at the chance to get involved. For many men and women living on the streets, their dog isn't just a pet, it's their lifeline."