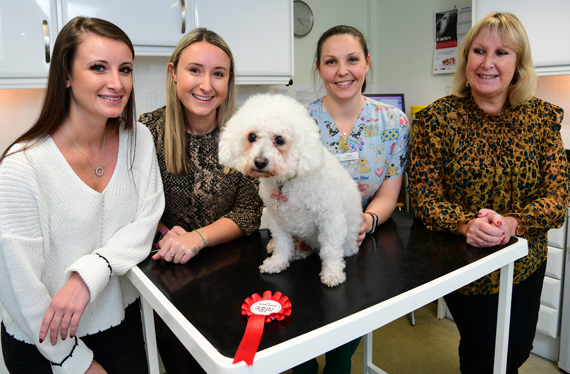 A once obese bichon frise has shed the pounds to be crowned the biggest weight loser in a national pet slimming competition.
Archie was entered into the Royal Canin Healthy Weight Competition by Anna Wright, head veterinary nurse at Mimram Veterinary Centre in Welwyn, Hertfordshire.
The 11-year-old had been a familiar face at the slimming clinics run by the practice to support owners with overweight pets.
Archie was once a podgy pooch who struggled with longer walks. After a full weight management consultation, Archie, who lives with the Wooldridge family, in Mill Hill, north London, was put on a new diet and weight management programme.
The bichon has shed more than a third of his body weight since starting the clinics. He was originally 12.5kg, but now tips the scales at 8kg.
His significant weight loss put him in the final six for the competition and he was revealed as a winner at the event in Coventry.
ENERGY
Anna Wright said: "His owners were unaware just quiet how overweight Archie was, as it never been raised by their previous vets.
"Archie's mobility and energy have visibly improved. He has taken a liking to raw carrots as a treat and bangs his food bowl with his paw when he wants to be fed one.
"He goes on longer walks, even walking five miles one weekend, something he had never managed before."
Owner Jordan Wooldridge said: "Archie is now much healthier and happier and carrying a lot less weight. We portion out his food and don't give him rich treats like before, just the occasional carrot stick.
"He has so much more energy and is always making us run after him on walks, so it is like having a puppy again."
For her part in the success, Anna was presented with a £500 voucher for the practice to spend on veterinary products. The Wooldridges also won a holiday voucher worth £1,000.