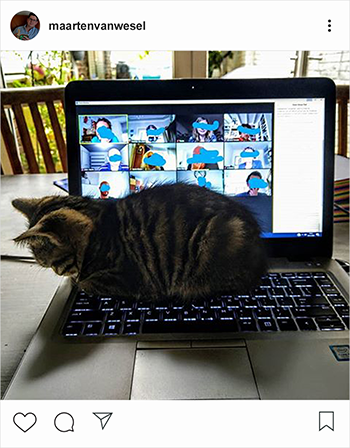 New research has revealed the important role pets played over the lockdown period and how taking photos of them was a crucial outlet for connection with the outside world.
Towergate Insurance surveyed 1,000 cat and dog owners and found that, thanks to 75% of owners spending much more time with their pets during the lockdown period, 49% now felt anxious about returning to work full time as a result of building such a closer relationship with their pets.
A quarter of people said they had taken more pictures of their pets than ever before, with most of them doing so to 'make memories' and also 'to capture them doing something funny', highlighting our passion for sharing humorous pictures of our pets on social media. Indeed, the top accounts on social media dedicated to pets have amassed more than 110 million followers across platforms, worth thousands of pounds per post.
POPULAR
Taking pictures of pets is in fact so popular, that the pet owners surveyed said they took more pictures of their pets than their family, partner, food or holiday sights!
These photos and memories captured between the pets and their owners have real-life benefits, too, with around 76% saying that spending time with their pets had helped to improve their mental health during 'a stressful and worrying' period of lockdown.
In fact, respondents loved taking photos of their pets so much, that over 50% said they would be prepared pay for a professional pet photographer to capture their pets in a studio setting, with some even willing to fork out more than £500 for the privilege.
Towergate spoke to several professional pet photographers as part of the research, including Kerry Jordan, creator of National Dog Photography Day, which is celebrated every July.
Alison Wild, from Towergate, said: "We all know how important pets are to us, but these results underline the connection many have seen grow with their cats and dogs during a time of uncertainty and isolation. For many, pets were a constant fixture and always available for comfort and companionship, so it is unsurprising how many people agreed that their presence improved their mental health and will miss them as we return to work."