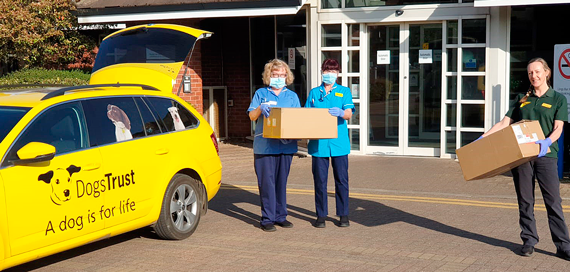 Dogs Trust is helping to support the national effort in the fight against coronavirus by donating vital medical equipment to the NHS.
The charity's rehoming centres rallied together to uncover what equipment they could donate, with Dogs Trust Loughborough coming up with120 surgical gowns. These were given to nearby Lings Bar Hospital.
Meanwhile, Dogs Trust Basildon has provided 300 masks to Basildon University Hospital and the charity has also returned 18 oxygen cylinders from across its network of UK rehoming centres to make them available for use within the NHS.
Dogs Trust's shared adoption scheme coordinator Emily Mills said: "We are proud to be able to play a small part in helping to support our wonderful NHS and provide much-needed equipment and medical supplies for our doctors and nurses on the front line.
"We have, of course, made sure our centres have enough equipment to deal with any emergency cases but, while we are not currently carrying out any routine procedures, we were keen to see these supplies put to good use.
"We will continue to work with health providers to see if we can assist the national effort in any other ways over the coming weeks and months."