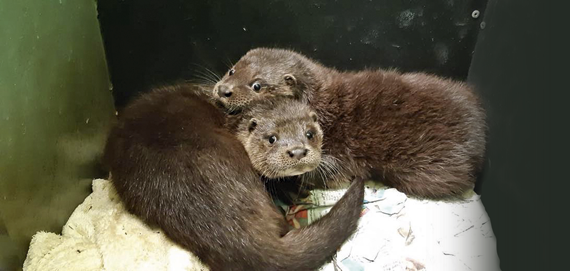 Two orphaned otter pups have been paired up by 'cupid' (also known as a wildlife expert), at the Stapeley Grange Wildlife Centre, near Nantwich in Cheshire. The female otter pup, named Eve, and the male, named Juniper, spent their first day together on Valentine's Day.
Eve was discovered on Christmas Eve, in a bin near Sunderland Road in Durham. A member of the public found her and rushed her to a nearby vets where she was treated for hypothermia, before being handed over to the Stapeley wildlife centre. Juniper was then found a few days later, alone, near Catterick Garrison in North Yorkshire. He was also taken to a vet, then transferred to Stapeley on January 7.
To help the otter pups prepare for their return to the wild, staff at the wildlife centre have paired them up, and so far, so good.
Stapeley manager, Lee Stewart said: "To help the otters' social well-being, we recently paired up Eve and Juniper, who are loving spending time together."
Eve and Juniper will be re-released into the wild together, at a suitable location later in the year.