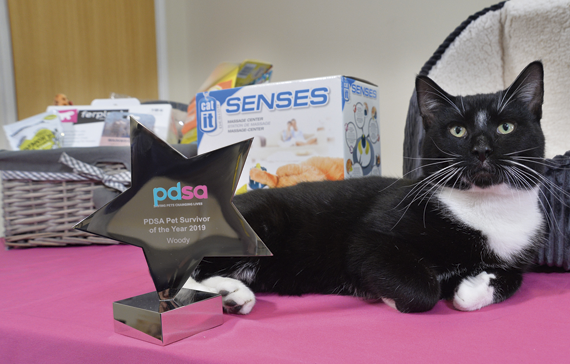 A kitten that cheated death by a whisker after suffering horrendous injuries has been named PDSA Pet Survivor of the Year 2019.
Woody came out top in a public vote to decide the winner and was up against three dogs, another cat and a duck for the title.
He joined the Wood family from Battle, East Sussex, in 2019. One evening, however, at just five months old, he returned home after several hours with most of his tail missing, a wounded paw and a deep slash across his tummy. He was rushed to the vet and had more than three hours of surgery to stitch up his stomach and amputate the remainder of his tail.
Following the operation, Woody spent eight days in intensive care at Sussex Coast Vets, though he later needed further surgery due to an infection.
After months of recovery and rehabilitation, he was back to his normal self. Woody and his owner Stephanie visited PDSA's Brighton Pet Hospital to receive his trophy and a luxury pet hamper.
She said: "It's been a tough year for Woody and the whole family, but it's ended on a high by winning this award. Thankfully the experience hasn't changed his personality – he's such a friendly little cat and will do anything for a cuddle or a treat."
The cause of Woody's injuries remains a mystery.