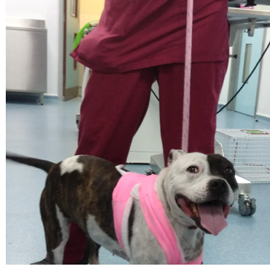 THE RSPCA has received more than 1,600 reports of abandoned animals across England & Wales since lockdown began and more than 800 of these were about dogs.
Staffordshire bull terriers were the breed most likely to be abandoned, with 15% of calls relating to Staffies.
The charity has released the figures as part of its coronavirus emergency appeal, launched to keep its rescue teams out on the road and rescuing animals in need during the covid-19 crisis.
Since the country went into lockdown on 23 March, the RSPCA has had 815 dog abandonments reported to its cruelty hotline – an average of 19 incidents a day.
The breeds most likely to be abandoned during lockdown were:
Staffordshire bull terrier – 125
German shepherd – 41
Bulldog – 39
Jack Russell terrier – 33
Husky – 22
Labrador – 20
Lurcher – 19
Akita – 14
Mastiff – 14
Collie – 11
Examples of dogs found abandoned include Staffie Zena, who was found with her mouth bandaged shut and severe leg injuries. The RSPCA is investigating her case.
Lurcher Harvey was abandoned by his owners when they were evicted from their home. He was left in a messy, concrete garden. Inspectors are investigating.
Two-year-old toy poodle Red was found in a garden after being tossed over the 7ft fence. She's being taken care of in a foster home while officers investigate.