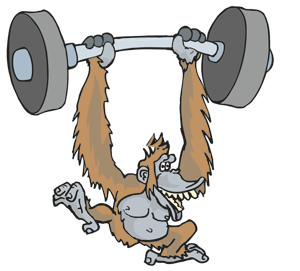 Roux is a critically endangered orangutan, who was born on Christmas Eve 2021, though, even at two months old, is still so small that infant-sized nappies hang off him.
Because of his size, staff at the Audubon Zoo in New Orleans, where Roux lives, have developed a 'baby boot camp' regime that he must complete numerous times a day.
Kelsey Forbes, the Zoo's assistant curator of primates, said that Roux's mum is the "wild child" of the orangutans, reports ABC News. "She is our biggest acrobat – a little bit crazy," Kelsey added, which is why Roux must build up enough strength to hang on to 12-year-old Menari, for 24 hours a day.
REGIME
Roux's regime includes pull-ups to strengthen his grip and arms, in his den he crawls around on various sizes of fire hose and other objects, and when the zoo is closed, he gets taken on walks around the zoo.
Roux is an incredibly important baby; he and his two half-sisters make up one-third of all orangutans born since the start of 2019, as part of the Orangutan Species Survival Program. However, Roux has taken to his new regime 'fantastically', said Kelsey.