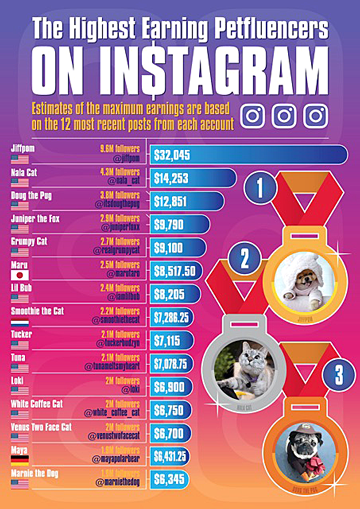 The highest earning 'Petfluencers' on Instagram have been revealed.
Online pet retailer OnBuy Pet Supplies produced the list using Influencer Marketing Hub's Instagram earnings calculator to work out how much the pets were earning per sponsored post. The data was based on the 12 most recent posts from each account as of December 16.
Jiffpom, a Pomeranian – who has 9.6m followers – came out on top, earning around $32,045 (£24,312) per post.
Nala Cat came second, earning $14,253 (£10,817) and Doug the Pug third, with $12,851 (£9,753).
Instagram users can make money from their posts by charging sponsors according to the size of their following. For instance, a report in the Financial Times said a user with an audience of 100,000 followers could charge brands up to $2,700 (£2,052) per post to feature the brand's products.